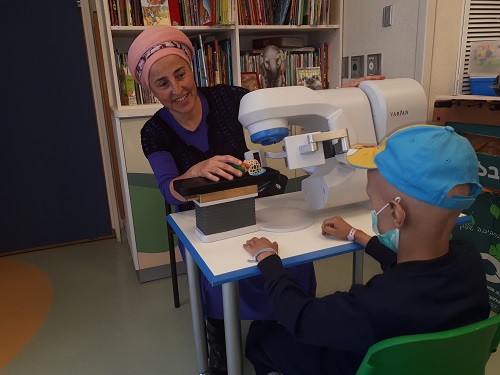 Until recently, kids in Israel with cancer were almost always sedated for radiation treatment. At the Hadassah Medical Center, however, that is changing.
Since August, a dozen sick children have undergone radiation without sedation. "If children aren't sedated in certain other countries, why should the situation be any different here?" asked Emuna Steimetz, a teacher at the Hadassah School for Sick Children. "If we can save sick kids from the negative side effects that come with sedation, we should," she said.
Born in the former Soviet Union, Steimetz immigrated to Israel in 1973. An engineer by training, she found her vocation teaching science. "It's a tough subject to teach young kids, so I developed a box of 'magic tricks' based on scientific principles to keep students interested," she said.
After a work accident, Steimetz found herself a patient at Hadassah Hospital. For almost three months, she underwent various procedures and rehabilitation. "My surgeon told me that if I wanted to fully recover, I had to go back to work," she said.
Five years ago, she began volunteering at Hadassah's School for Sick Children, which is run by principal Edna Pinchover, and operates within all ten pediatric departments on both the Ein Kerem and Mount Scopus campuses. All classes include a diverse set of students of different ages from varied backgrounds, like in the old one-room schoolhouses.
Now Steimetz is using her box of magic tricks once again to teach sick kids science. Dr. Gal Goldstein, Head of the Dyna & Fala Weinstock Pediatric Hemato-Oncology Department, and Principal Pinchover knew that the children were unhappy about radiation therapy and uncooperative when it came time for treatment, so they turned to Steimetz. They asked her to develop a way to help kids cope with the radiation treatments. Children with cancer typically undergo 30, five-minute sessions of radiation. "Knowledge has proven to reduce fear, even among such young patients," explained Steimetz, "so I knew that with the right educational tools, we could help these kids."
Steimetz decided she could show the children little red dots of "'tumor" Playdoh on a green ball. "Then I would give the kids a small laser flashlight and tell them to point the beam at the red dot to eliminate the cancer," she explained. "When I move the Playdoh, they would understand why it's so important to stay still during radiation."
Steimetz also approached Varian Medical Systems and asked for a model of the equipment used for radiation treatment. She received a dollhouse-sized model, via express post. Steimetz then commissioned a studio that reproduces art for museums to create a larger model of the radiation therapy delivery device. "The studio was so excited about making something that would help sick kids that they went beyond our requests and included more details on the model machine," said Steimetz. This realistic model now prepares the children for treatment.
In addition, Steimetz found kids' books about radiation in Hebrew and Arabic to read to the children. "With these tools, we can help kids with cancer understand what will happen to them," she noted. "This knowledge enables the kids to cooperate and reduces the need for sedation."
Recently, one of the radiation technicians sought Steimetz out to tell her that a challenged nine-year-old was one of the most prepared patients she's had and cooperated throughout the treatment. "That's all the reward I need," Steimetz said.
Steimetz' educational tools are part of the "MEDucation Project," devised, lead, and run by Pinchover. MEDucation is a unique series of lesson plans that facilitate hospitalized children's understanding of the various medical treatments and procedures they are likely to experience during their hospital stay. MEDucation has been further developed to roll out to other hospitals in Israel. To date, six Israeli hospitals have started to use these educational tools.