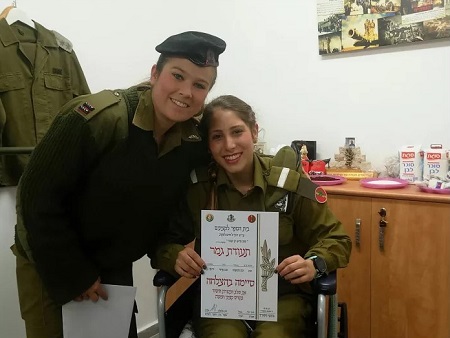 Only seven months after being severely injured in a terrorist attack that took the lives of four of her friends, Danna Ofir started jogging again. "I was able to run after four months actually. The doctors could not believe it" says Danna.  "This is one of the most dramatic recoveries we ever witnessed" says Head of the Orthopedic Trauma Unit at Hadassah Hospital in Ein Kerem, Prof. Rami Moshayov.
Danna Ofir was one of the 13 soldiers injured in a run-over terrorist attack in Armon HaNatziv neighborhood in Jerusalem last January. Four soldiers were killed.
"I do not remember much from the attack. It's like a black hole" says 20 -year- old Danna. "I remember arriving in Jerusalem that Sunday morning for a week -long education course, and then this happened in the morning. We made it to the first lecture at the Congress Center, and then continued to Armon HaNatziv. It was supposed to be just a gathering point, and then the terrorist attacked us".
Danna was taken to the Hadassah Ein Kerem Hospital, suffering from severe injuries. For five days she stayed in the Trauma Department before the doctors were able to stop the sever hemorrhaging in her abdomen. "I screamed from pain. There was such turmoil around, so many people. I suffered from severe bleeding in my tummy, torn liver and lungs, and injuries all over my body" she recalls.  Later, she was transferred to the Orthopedic Trauma Department, where Prof. Rami Moshayov, the head of the unit, performed several re-constructive surgeries in her pelvic area.
"Danna's injuries were among the most severe we have encountered in our unit" emphasized Dr. Moshayov. "After a series of complexed pelvic restoration orthopedic surgeries, we were able to stabilize her condition and put her back on her feet. Against all odds, she recovered remarkably well, and even graduated an IDF officers' course. This is most definitely one of the most remarkable, rare cases we were able to treat".
Danna was released from the hospital and for two months moved around using a wheelchair. She suffered from tremendous pain that would not let her sleep at night and had to use strong pain killers. But she had a dream. She wanted to become a Combat Training Officer, and refused to give up. "I believed in myself. I worked hard in those four-times-a-week physiotherapy sessions" she said. "The doctors said that I may be able to walk again after six months. But after four months I was able to run, contrary to all their predictions. They just could not believe it".
Two weeks ago, only seven months after the attack, Danna's dream came true: she completed her Combat Training Officer's course. "Receiving my officer rank in the ceremony was the most rewording experience I ever had. I am happy to be able to inspire others, and am giving lectures talking about my recovery process. This is my victory over the terrorist, and this is the message I wish to convey to others" she says.
See article in Hebrew.