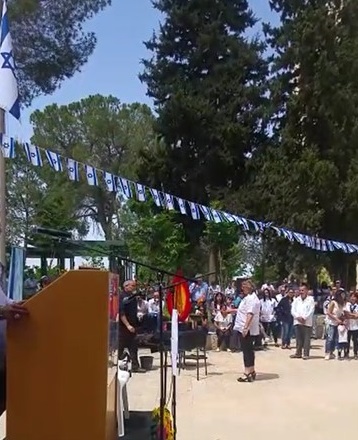 The Hadassah Hospital commemorates Yom Hazikaron, Israel's Memorial Day, with a candle lighting ceremony each year.
This year the person chosen to light the torch was nurse Yael Gutfruend Shamam, a nurse in maternity. Her father was Yossef Gutfruend who was one of the Israeli athletes murdered in Munich in the 1972 Olympics. He was a wrestling coach, and held off the terrorists until two of his roommates in the Olympic Village could escape.
Yael said, "Everyone had a strong Daddy, but mine was really one of the strongest men in the world. " Soon after his murder, her mother also died, leaving Yael and her sisters orphans. "Our answer was to raise large families." She has five children and recently her first grandchild. Her work in the maternity word helps many others realize their dream of parenthood.
May Yossef Gutfruend's memory be for a blessing.