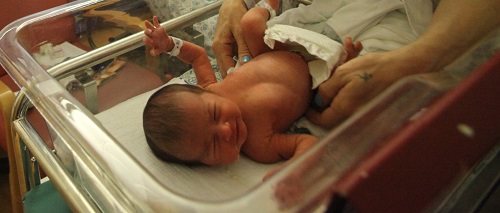 The baby boy was born in a different Jerusalem hospital, but the nurse in the delivery room noticed the that the infant was blue, cyanosis, due to lack of oxygen to the skin. The doctor on duty agreed that there was something seriously wrong with the newborn's heart.
Congenital heart malformations are usually spotted in pre-natal ultrasound and the mother gives birth in a major center where a team of cardiologists and cardiac surgeons are present. For whatever reason, this was not the case, and the baby was urgently transferred to Hadassah Ein Kerem, where a senior pediatric cardiologist Dr. Zeev Perles, recognized that in addition to transposition of the main arteries, this baby had a very rare malformation of the aorta, the large artery that carries blood from the heart to the rest of the body. Indeed, this baby wasn't getting enough oxygen to his body due to the transposition of the main arteries. But there was more. Normally, the aorta develops from one of several curved pieces of tissue (arches). The body breaks down some of the remaining arches, while others form into arteries. In this baby, one of the arteries which was supposed to break down early in the fetus did not. This formed a vascular ring which encircled and pressed down on the windpipe (trachea) and esophagus. Without expert surgery, the baby wouldn't survive more than a day or two. In addition- the vascular ring- if left untreated- would cause severe breathing and swallowing difficulties in the first year of life.
Prof. Eldad Erez, head of pediatric cardiac surgery, managed to repair these heart anomalies in the day old baby, and he was soon sent home in excellent condition to recuperate.