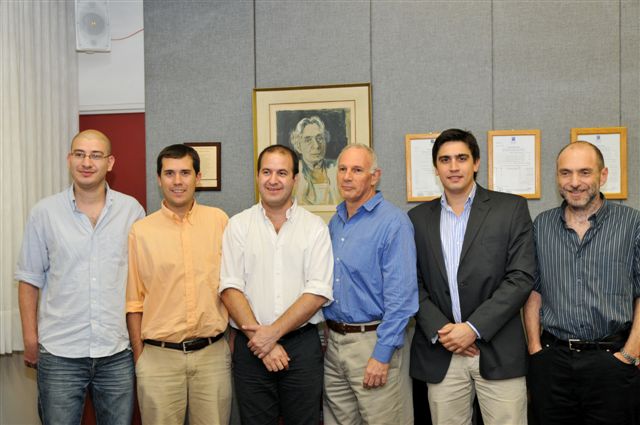 With the goal of emulating Israel's public health system as they revamp their country's approach to public health, physicians from the Uruguayan Medical Association visited the Hadassah Medical Center in May.
This collaboration with Israel dates back to a visit four years ago by Dr. Ricardo Ehrlich, Dean of the University of Uruguay and promoter of health reform. This year's delegation included Dr. Martin Fraschini, otorhinolaringologist; Dr. Julio Trostchansky, thoracic and trauma surgeon; and Dr. Martin Rebella, internal medicine specialist, who were also visiting other hospitals in Israel.
The delegation was first greeted by Prof. Avi Israeli, head of the Hadassah-Hebrew University Faculty of Medicine's Health Policy, Health Care Management, and Health Economics Department. Prof. Israeli spoke to the Uruguayan physicians about Israel's medical system, health care reform legislation, and his plans for improving health in Israel's population.
The delegates were briefed also by Prof. José Cohen, renowned neurosurgeon and interventional neuroradiologist, who discussed the innovations of his department.
At the Mother and Child Center, they were met by Dr. Walid Majusen, a pediatric surgeon who resides in the Palestinian city of Jenin and studied at Damascus University. Dr. Majusen spoke with the Uruguayan physicians about the importance of the play area in enhancing the well being of the pediatric patients, as well as the environment of harmony that exists at Hadassah between Arabs and Jews.
The visit strengthened the ties between Hadassah and the Uruguayan medical community, explains Ethel Fainstein, Director of Hadassah Mexico and Latin America. She adds: "I truly hope that Hadassah will have a special place in the public health system that Uruguay plans to adopt."
For more information, contact Hadassah Latin America at Hadassah-Mexico@hadassah.org.