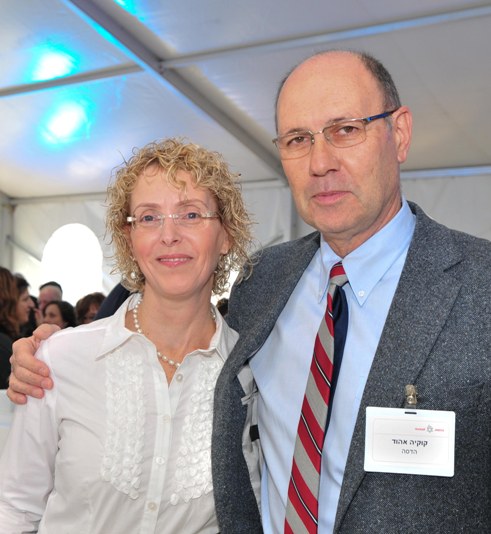 It is often said that while Israel is not endowed with a large supply of natural resources, we are rich in brain power. This has been proven repeatedly in the last few decades as creative ideas continuously emerge from the minds of Israeli scientists and find their way to the marketplace.
At Hadassah, we know we are rich in brain power. We know from experience that our patient-related research has changed the way we practice medicine; we know that the research taking place on both our campuses has the potential to improve people's lives, even to save lives.
But ideas alone are not enough and research results, even the most exciting of them, need more than the doctors' dedication to succeed. They require a nurturing environment and the assistance of marketing and management professionals, which is why HMO created Hadasit, Hadassah's technology transfer company, 25 years ago. The first hospital venture of this kind in Israel, Hadasit has been called "a marriage of the mind and the marketplace."
"I see technology transfer as the focus, not just a link in the chain in the process of bringing ideas to fruition," says Hadasit CEO Dr. Einat Zisman. Sharing just a bit about her personal and professional background says a lot about the person at the top – her willingness to embrace new ideas, to create new combinations, to arrive at new conclusions.
"When I was 16, I loved chemistry. I still do," she says with a small smile. "Yet chemistry seemed a bit stodgy, not terribly innovative and less multidisciplinary than pharmaceutical sciences. I was very naïve. I thought a degree in pharmaceutical science would have broader implications. Regardless of which I chose, I felt that both fields were dominated by men and it was very clear to me that there should be more women."
During her academic career, Dr. Zisman earned a Bachelor's degree in Pharmacy from the Hebrew University School of Pharmacy here at Ein Kerem and a Master's degree in Medical Science from Ben-Gurion University of the Negev. Because pharmacology is "much more clinical," she says, her next stop was the Weizmann Institute of Science, where she conducted basic and allied research in immunology. She focused on auto-immune diseases, and completed her PhD under the supervision of Prof. Michael Sela, whose groundbreaking research resulted in two drugs, Copaxone and Erbitux.
At that point, she realized that her best prospect of applying her training and realizing her research was in the healthcare industry. "When I began to work with business people for the first time, I saw the gap between science and industry," she says, "and decided to connect the two." So she went off to the University of Southern California where she completed a Master's degree in Business Administration.
I tell you all this because it provides an insight into the person and the philosophy that guide Hadasit's activities. "We approach every idea, every project, every invention from a business point of view," Dr. Zisman says. "We examine the clinical implications, the regulatory demands and the market potential. At Hadassah, we need to work according to the standards of the industry and train our people to do so as well. The scientific information is critical, but we have to take it further. We involve the doctors in this way of thinking; otherwise the advantages of the technology might be lost."
Hadasit gives our physicians and researchers the framework to realize their research results. It is the critical connection between research and clinical excellence. "In the last two years alone, Hadasit has finalized more than 240 clinical trial agreements, 90 consulting agreements and 50 pre-clinical service agreements," Dr. Zisman says. "Over 30 new patent applications were filed, 15 license and option agreements with commercial partners were signed. More than a dozen products based on our technologies are currently in various stages of clinical trials conducted by these commercial partners. With the latest new regulatory approvals, we now have five new products on the market."
Hadasit has many ideas in various stages of development and potential products that keep moving forward. Yet, the future is always right around the corner and involving the next generation of Hadassah's physicians and scientists is high on Hadasit's agenda.
"We go to department meetings and explain what Hadasit does and how we can help them develop their research concepts. We describe our services and introduce our personnel. Then we provide an analysis of the business world in their field. For example," Dr. Zisman says, "recently we told a group of young dentists and dental students about the trends in medical devices in dentistry.
"Most of all, we ask everyone we meet with to evaluate their research in terms of its market as well as its medical potential. We ask them to assess who will use their product and why; what are its advantages and how many people it will affect. Even when their research is purely science oriented – without commercial potential – we are sensitizing them to the importance of protecting their ideas with patents.
When explaining how Hadasit can help them with the tools and framework for patenting, we also casually mention that we give $1,000 to each doctor or researcher we help apply for a patent – and that we have and could give out more." Although still in its initial stages, Dr. Zisman noted that "we are starting to get feedback and more physicians are approaching us."
Dr. Zisman told me Hadasit is her life's mission, the continuous and continuing fulfillment of her goals. Her intensity is impressive, her commitment unconditional. She speaks enthusiastically about the possibility of an HMO blockbuster – and of the serious prospects that are in the pipeline. Some of these prospects are part of the Hadasit Bio-Holdings Ltd. (HBL) portfolio.
Just as Hadasit is unique in Israel, HBL appears to be the only one of very few ventures of its kind in the world. HBL is a portfolio of six of Hadasit's start-up companies that was floated on the Tel Aviv Stock Market – and later in the United States. HBL was created to provide the critical funding these companies need to further develop their products to the stage when they would be attractive to the large pharmaceutical companies that could invest the hundreds millions of dollars required for the last phases of clinical development, seeking of regulatory approval and eventually launching.
"Finding creative ways of supporting translational research and especially innovative medical device ideas is always challenging," Dr. Zisman says, "these days even more so, as there is a greater reluctance to invest in early stage high-risk innovations." Hadasit's determination to find the most creative solutions to practical problems is part of its protocol. Undaunted, they are developing a method to meet this latest challenge.
Right now, Hadasit is involved in treatments and diagnosis for inflammatory diseases such as inflammatory bowel disease, rheumatoid arthritis and diabetes; cancers such as multiple myeloma, other hematological malignancies and breast cancer; coronary artery disease; strokes; Age-related Macular Degeneration; Graft vs. Host Disease; infectious diseases and bone regeneration. Success in any one of these areas will dramatically alter the physician's ability to treat people with these dreadful diseases and conditions, improving the world they inhabit.
Hadasit provides the crucial connection between clinical excellence and research, between science and industry, between the mind and the marketplace. Just as Hadasit creates start-up companies from research developed at HMO, I see Hadasit as a start-up company for HMO. It is an investment in the future of the Medical Center, an investment for the future of people around the world.
Yours,
Ehud
Prof. Ehud Kokia, MD, MHA
Director General