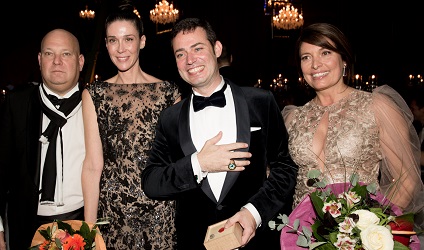 Under the auspices of actress and international celebrity Sharon Stone, Hadassah Germany held its major fundraising gala DINNER & DANCE FOR HEALTH & PEACE on October 19th, 2013.
Many German celebrities, including Countess Nathalie von Bismarck and her husband Carl Eduard Graf von Bismarck, Veronica Ferres, Jens Lehmann and Regine Sixt, were in attendance at this elegant event to promote donations to the Pediatric Intensive Care Unit at the Hadassah Medical Center.
Hadassah Germany honored Actress Veronica Ferres with the Hadassah International's Citizen of the World Award, and Dr. Christian Hirmer received the Tikun Olam Award.
The over 300 attendees at the Gala raised € 350.000 for the life-saving medical work of Hadassah.
Read a media report on the Gala  http://www.redcarpetreports.de/2013/charity/dinnerdance-for-peace-2013/
View a Video of the gala.  https://vimeo.com/user11474135/review/77695157/27aa8d5789
Read about the announcement of the recent collaboration between the Haunerschen Children's Hospital in Munich with the Hadassah Medical Center http://hadassahinternational.org/news/article.asp?id=2509
Read about the Gala on the Hadassah Germany website http://www.hadassah.de/
Read about the Pediatric Intensive Care Unit http://hadassahinternational.org/page.asp?id=152