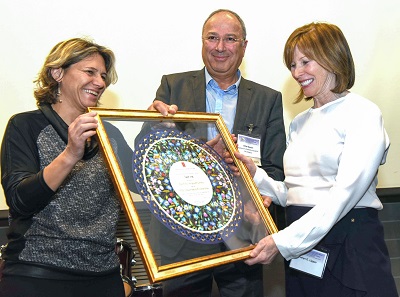 The award ceremony took place at the Gerry Schwartz and Heather Reisman 4th International Conference on Pediatric Chronic Diseases, Disabilities and Human Development, which brings together medical professionals from around the world to focus on meeting the needs of children with chronic diseases or disabilities and their families. Dr. Evelyn Lipper is a leader in the field of child development and a visionary and supporter of Hadassah's work in this area, particularly Hadassah's Goshen Project with its outreach to the community.
The Goshen Project, which was initiated by the Pediatric Department at the Hadassah Medical Organization and Hadassah Australia, was established as a national program designed to refocus pediatric training and child health service delivery to better reflect and respond to the needs of children and families. It seeks to broaden the knowledge of physicians in the field who face everyday patient challenges in a non-hospital setting by training clinic doctors how to treat the common but troubling problems they may encounter (for example sleep disturbances or behavior problems), and how to take advantage of community resources to better serve the families in their care.
Through developing enduring collaborative partnerships with government, NGOs, health funds, and other stakeholders, the Goshen Project seeks to address the particular issues of disadvantaged populations by establishing model community-based prevention and early intervention programs. Goshen also seeks to undertake collaborative research, and to disseminate the findings to inform public policy, service delivery, professional practice, and parenting.
43 physicians have completed a one-year course, and twenty of them have gone on to a second year. An additional group of 20 doctors have begun the first-year of the program. The participating doctors work in a wide spectrum of lower socio-economic Jewish and Arab communities.
"Two physicians in the development town of Kiryat Malachi near Ashkelon have already set up a lecture series for parents as a result of their greater community involvement," said Dr. Hava Gadassi, the Medical Director of the Goshen Project  which is modeled on the Center for Community Child Health at the Royal Children's Hospital in Melbourne, Australia.
Dr. Evelyn Gruss Lipper is a pediatrician and an Associate Professor of Clinical Pediatrics at the Weill Medical College of Cornell University where she has served on the faculty since 1982. She currently has a private practice that focuses on Maternal Infant Psychotherapy.
From 1990-2002 Dr. Lipper was the director of the Division of Child Development at Weill Medical College and associate attending pediatrician at New York Presbyterian Hospital. From 1977-1981 she was a member of the pediatric faculty at the Albert Einstein College of Medicine. Dr. Lipper serves on the Board of Overseers of Albert Einstein College of Medicine and on the Board of Trustees of Rockefeller University, and New Visions for Public Education. Her expertise in feeding issues in child development is one of the subjects of the Conference. She is a longtime believer in outreach to underserviced communities and a faithful friend and source of inspiration for Hadassah.