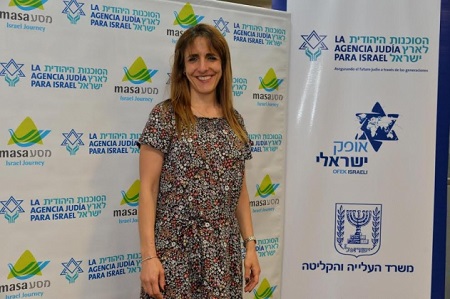 While on a tour of Argentina as a part of a delegation of professionals arranged by the Jewish Agency for Israel, Pulmonologist Dr. Malena Cohen was interviewed by Itongadol, a Spanish language News Outlet.  Dr. Malena Cohen, is a cystic fibrosis specialist who made Aliyah 17 years ago. She works at the well-known Hadassah Hospital .
"Hadassah is one of the largest and best recognized hospitals in Israel. In its clinical work and in teaching, it is the best, and I have the luck to work there," she said. "If I were given the option now, I would make Aliyah again."
Malena Cohen is a recognized Pediatrician working with children with genetic diseases of the air passages. However she also works with adults. Dedicated to Pulmonology, she conducts research and is part of a team that is the world leader in the treatment of cystic fibrosis.
"In the hospital we all work together as friends, it does not matter if we are Arabs or Israelis, Muslims or Jews," Cohen told the interviewer.
Asked about the health care system in Israel, Cohen said, "Those who have children or are patients themselves, ask me how prepaid social healthcare works in Israel. When I tell them that all the residents of Israel have free health care, I see that they are reassured."
"The health system is superior to that of any other country". However doctors, nurses and many other specialists are needed," she said.
To see the original article in Spanish from ItonGadol, please go to http://www.itongadol.com.ar/noticias/val/103480/la-agencia-judia-para-israel-neumonologa-malena-cohen-%E2%80%9Cvolveria-a-hacer-alia-lo-digo-de-corazon.html