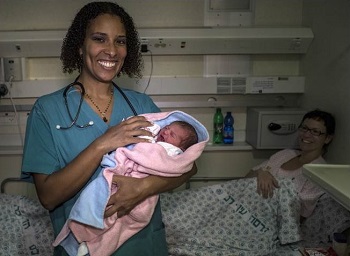 While in the United States for training in evaluating children who have been physically or sexually abused, Hadassah Medical Center Senior Gynecologist/Obstetrician and Sexual Abuse Specialist Dr. Mushira Aboodia gave a presentation at Hadassah's New York headquarters about the work of the Hadassah Medical Center's Bat Ami Center for Victims of Sexual Abuse.
Dr. Aboodia, who received all her medical education and clinical training at the Hadassah-Hebrew University School of Medicine and Hadassah Medical Center, came to the United States for specialized training at the Child Abuse Research Education and Service (CARES) Institute of the University of Medicine and Dentistry of New Jersey.
During her two-week training, she learned not only how to assess the extent of abuse a child suffered, but also how to document the child's injuries and write reports for the courts.
"The primary goal of the treatment at the Bat Ami Center," she explains, "is to return control to the victim." The person who has been assaulted decides whether to be examined by a gynecologist, to allow the collection of forensic evidence, or to press charges. Before the Center was established in 2009, victims had to go to the general emergency room, where they were often forced to wait much too long; now they are immediately seen by specialists of the Bat Ami team. Clinical studies have shown that the victim's recovery is highly influenced by how soon after the assault she is seen by those who can help her. At the Center, as a precaution, the victim is offered the "morning after" pill, antibiotics to fight sexually transmitted diseases, and medication to ward off HIV/AIDS.
For more information about the Bat Ami Center, see the October 2011 issue of Hadassah Magazine.