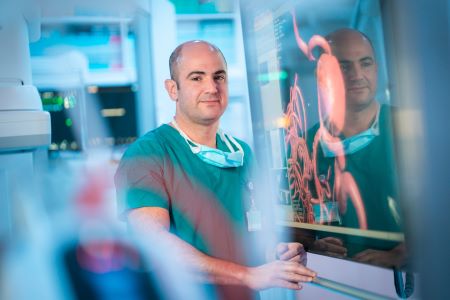 As a child, Samuel decided to become a doctor to help his mother to walk again.
Today he is a senior neurosurgeon at Hadassah and head of the Skull Base and Pituitary Surgery Unit!
 "I was born in Caracas, Venezuela. When I was almost two years old and my sister was three and a half years old, my mother was in advanced pregnancy with my brother, during which she began to feel a weakness in her leg. Since she was pregnant, the doctors refrained from testing her. They kept telling her that they would check everything after she gave birth.
Immediately after she gave birth, the weakness did not pass; the situation worsened. She began to undergo a series of tests in which the doctors discovered a spinal cord tumor.
When she was only 30 years old, my mother had to undergo two surgeries to remove the tumor and unfortunately remained paralyzed from the chest down – 100 percent disability.
The date of the operation fell out on my second birthday. Therefore, that is how I grew up. From that day on, the wish I had as a child was for my mother to be able to walk.
Every birthday, every time I lost a tooth, or every time I was told to 'close your eyes and think about something you really want,' I always asked that my mother be able to walk.
Being a child of a mother having paralysis in 2/3 of her body was the norm for me. 
Moreover, my mother was a very strong woman! She made up for her inability to move her legs and walk in other ways. She always gave us of herself more than anything, two hundred percent, taught us new things, played with us, and educated us gloriously. Thanks to her, we had a wonderful childhood and never lacked anything. 
One of the things I distinctly remember is the swimming lessons that she was very strict about because she could not get into the water with us. The biggest fear she had was that we would drown and she would not be able to jump in to save us. For a long time, we took swimming lessons every day until we were excellent swimmers and she could relax a little.  
As I grew older and began to understand more, it hurt. 
Every day, all the time, I saw what the life of a person who cannot walk and do things for themselves was like – I saw my mother.
Out of the pain, thoughts arose. 'I pray my mother will walk again; maybe I can help? Maybe I can do something to make it happen?'
As a child, I decided to become a doctor so my mother could walk again.
I remember reading the report of her surgery and trying to understand every word. Words I did not understand – and there were many, I searched the books at home and in the dictionary. There was no Google then like there is today.
I grew up, and the path continued to be clear. I was accepted to medical school and knew exactly the direction. Specializing in neurosurgery, I would be able to help my mother walk. This hope kept me safe and drove me, always to be the best I could, to deepen my understanding of the field, and explore new fields.
Naturally, in academia, I was always very interested in brain and spinal cord tumors in young women. One of the important studies I worked on and was worthy of publication was on pregnant women with tumors and the significance and influence of pregnancy on the tumors. For me, it was not just another study; it really interested me; I was fascinated by the subject day and night.
Time passed, and I began to move forward, to know, to understand more, and to specialize. Then I realized that after such a long time with a neurological deficit it will be impossible to recover any functioning.
At some point, I realized and internalized that my mother would no longer be able to walk. However, the wish that accompanied me all my life did not disappear; it changed.
Today as a doctor, my wish and hope are directed toward my patients. When someone comes to me with paralysis, weakness, or a particular disease, and I operate on him or her, I wait for them to wake up, and my wish is there before my eyes – I wait for the patient I operated on to get up on their feet.
I understand what it means to live with a disability. However, for me, neurosurgery is not a job but a value for life.
It is to be always excellent and precise, 'perfect' – I always tell my residents and students. There is no 'a little right, a little left;' I have to be precise because every movement has its consequences, and they are critical. I know that from up close."
Dr. Samuel Moscovici
Director of the Skull Base and Pituitary Surgery Unit at Hadassah