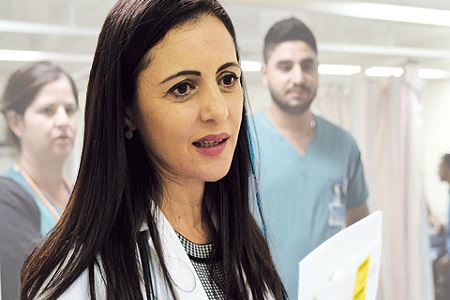 At the young age of 10, when her grandfather suffered a heart attack and no medical treatment was immediately available in their village of Tur'an near Nazareth in the Galilee, Dr. Shaden Salameh-Youssef found herself struggling to describe his condition to paramedics over the phone. That is when she decided she had to become a doctor.
With a magnetic personality, she has been dreaming big and fulfilling her ambitions ever since. Appointed as the head of the Emergency Medicine Department at Hadassah Hospital Mount Scopus, in mid-2019, Dr. Salameh-Youssef is now setting her sights on expanding and improving the Emergency Room.
According to the Israel Central Bureau of Statistics, Israel's population is considered young, relative to the populations of other Western countries. Jerusalem, in particular, has a relatively high proportion of children aged 0 to 14 years. Moreover, the city of Jerusalem is growing rapidly, with a current population of more than 800,000.
With this ongoing population growth and constant advances in medicine, the number of ER visits to Mount Scopus continues to increase. In 2019 alone, more than 68,800 patients turned to the ER, a 3 percent increase over the 66,800 visits in 2018. Yet, apart from a minimal expansion more than 20 years ago, the ER largely remains as it was in 1939 when Hadassah Mount Scopus opened in what was then Mandatory Palestine. Today, Mount Scopus is the closest hospital for over half of Greater Jerusalem's population.
Patients can access the ER at Mount Scopus 24 hours a day, 7 days a week, and 365 days a year. The ER offers treatment and care for nearly all medical emergencies, including pediatric surgical subspecialties.
Dr. Salameh-Youssef is pleased that the renovation of the ER now underway will alleviate the overload and better meet the needs of the surrounding communities. "The renovation will include a new walk-in clinic, a triage area, a separate pediatric ER, and a much-needed trauma unit," explains Dr. Salameh-Youssef, adding that the current lack of a functional trauma unit at Mount Scopus means that patients often have to be transferred to Hadassah Ein Kerem for urgent treatment.
Last May, the new Cardiac Catheterization Laboratory was inaugurated, enabling emergency angioplasty to be performed on the premises, thus boosting the hospital's ability to treat patients arriving at the ER with acute cardiac distress.
Under her dynamic leadership, the ER will be better positioned than ever before to provide immediate healing to Jerusalem's diverse and thriving population.
Her husband is a urologist at Hadassah, and they have three young children. "I love this place and I'm very honored to be able to lead the department forward," she says smilingly.