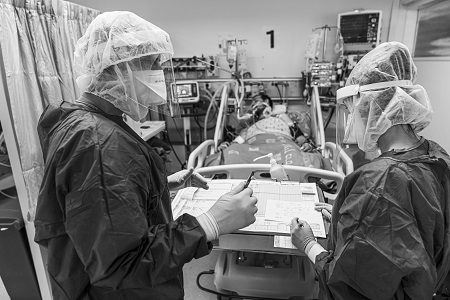 All five of the seriously ill COVID-19 patients at Hadassah Hospital Ein Kerem who received an experimental treatment developed by a Hadassah physician have recovered, and they have tested negative for the coronavirus.
The five individuals, participating in the first clinical trial in the world to treat COVID-19 patients with human cells taken from healthy live donors, were discharged, on average, five or six days after receiving Allocetra™. The drug,  based on the research of Prof. Dror Mevorach, head of Hadassah's Internal Medicine B Department and one of Hadassah's COVID-19 outbreak units, was developed in collaboration with Enlivex, an Israeli biotechnology company.
Allocetra™ was originally created to treat a wide range of patients who have overactive immune systems, resulting in increased secretion of proteins called cytokines, which cause a "cytokine storm." It has already been given successfully to 10 patients with sepsis. As explained on the company's website, "Allocetra™ is an innovative immunotherapy that is being developed to rebalance life-threatening hyperactivity of the immune system, using the immune system's own natural regulation mechanisms. By intelligently engaging macrophages and dendritic cells, Allocetra™ is designed to avert cytokine storms and restores safe immune balance without suppressing the immune system."
The clinical trial in COVID-19 patients is being led by Prof. Vernon van Herdeen, head of Hadassah's General Intensive Care Unit.
See the February 6, 2020, issue of The Jerusalem Post for further background on Allocetra™.
Photo credit: Bruno Lavi