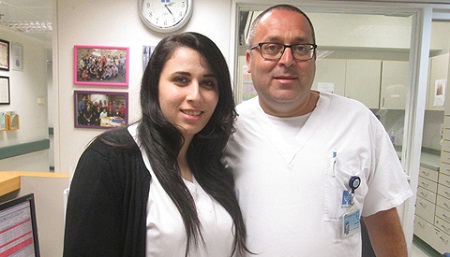 Stuart Levy, head nurse of the Hemato-Oncology Unit at Hadassah Hospital Ein Kerem, relates that during the Muslim holy month of Ramadan, he asks the Jewish nurses to work evening shifts whenever possible to allow Muslim nurses to break their fasts at home.  Non-Jewish nurses reciprocate by working on Jewish holidays.
Although he admits that juggling so many holidays as well as the Muslim, Jewish, and Christian Sabbaths (Friday, Saturday, and Sunday respectively) can be a logistical nightmare, Levy prefers to view it as an exercise in empathy. Read about the cooperation and mutual respect on his unit at RNS, the Religion News Service: "In Israel, followers of different religions help each other keep the faith."
Photo Caption: Rula Badarna, left, and Stuart Levy, nurses at Hadassah Medical Organization in Jerusalem. Photo Credit: Michele Chabin from RNS.