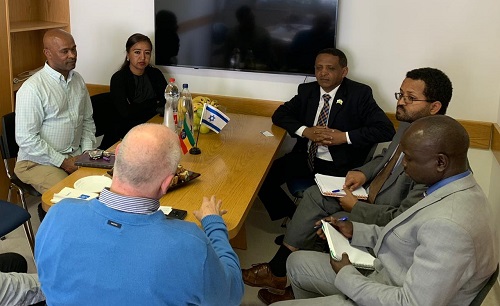 The Ethiopian Ambassador to Israel, His Excellency Mr. Reta Alemu, Ambassador Extraordinary and Plenipotentiary of Ethiopia, along with other diplomats representing Ethiopia, visited the Hadassah Medical Center for the first time to learn about Hadassah and it's many achievements.
During a meeting with Prof. Yoram Weiss – Director of Hadassah Medical Center at Ein Kerem, Prof. Weiss declared: "It is important to us at Hadassah to strengthen and develop our cooperation with Ethiopia."
While touring Hadassah's new Milstein Heart Center, His Excellency met Prof. Arthur Pollak – the Director of the Acute Cardiac Care Center and  Clinical Research. Prof. Pollak took the delegation to see the Cath Lab, the intensive therapy unit, and some of the highly advanced technology and capabilities of this world-class facility.
The Ambassador, together with the other members of the delegation, donned surgical scrubs for a visit to see the state-of-the art Operating Rooms at Hadassah.
They were also very pleased to have the opportunity to actually meet with an Ethiopian patient.
The response of the Ethiopian Delegation to the visit was
እናመሰግናለን!   (Pronounced  inameseginaleni)
Thank you!
Hadassah has had a strong program for cooperation and reaching out to Ethiopia that reaches back for over 20 years.
In 2019 Hadassah has embarked on a program to help Ethiopian Hospitals combat infection.
See http://v2023.hadassahinternational.org/strengthening-infection-protection-hadassah-outreach-in-ethiopia/
In 2018 a team of Hadassah Doctors flew to Ethiopia to perform back surgery on 5 children with severe spinal deformities.
See http://v2023.hadassahinternational.org/hadassah-doctors-ring-humanitarian-surgery-ethiopia-day-one/ and http://v2023.hadassahinternational.org/hadassah-doctors-bring-humanitarian-surgery-ethiopia-day-two/
In 2017 a Hadassah doctor taught a pediatric emergency medicine course in Addis Ababa.
http://v2023.hadassahinternational.org/fellowship-australia-teaching-pediatrics-ethiopia-hadassah-pediatricians-journey/
Starting in 2005, ART Joy Love has been Hadassah's extraordinarily successful program in Africa to combat pediatric HIV/AIDS. It was spearheaded first in Ethiopia by Hadassah Senior Pediatrician and Infectious Disease Specialist Prof Dan Engelhard. As Prof. Engelhard explains: "When we started in the Mother Teresa Orphanage in Ethiopia, where most of the 400 children were dying of HIV/AIDS, 25 percent of them died each year. In a short time, that death rate dropped to 1 percent!"
http://v2023.hadassahinternational.org/hadassahs-art-joy-love-project-continues-to-nurture-ethiopian-orphans-who-have-hivaids/
http://v2023.hadassahinternational.org/hadassahs-hivaids-experts-host-psychosocial-workshop-in-addis-ababa-for-orphanage-staff/
In the late 1990s HIV/AIDS Research and treatment in Ethiopia was initiated by Hadassah' Prof. Shlomo Ma'ayan after cases of HIV/AIDs were diagnosed in the Ethiopian population that had immigrated to Israel in 1991. Prof. Ma'ayan was studying AIDs and conducting researching looking for new treatments and a possible cure for AIDS. He partnered with the Lion's Hospital in Addis Ababa to study the strain of the HIV virus that was found in the Ethiopian population. Hadassah Luxembourg supported this research under a program of the Luxembourg government to match every Euro raised by Hadassah Luxembourg two to one. The need for anti-retroviral drugs became obvious, and Ministers from the European Union came to Hadassah to meet with Prof. Ma'ayan and Prof. Dan Engelhard. They agreed to fund anti-retroviral drugs to treat AIDs in Ethiopia until such time as the Ethiopian Government could take over the funding of these life-saving drugs.
http://v2023.hadassahinternational.org/hadassah-luxembourg-ngo-announces-new-project-supporting-aids-research/