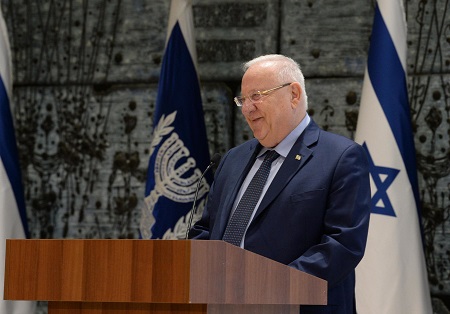 When Reuven Rivlin, president of Israel, honored Israeli nurses during ceremonies marking International Nurses Day on May 12, only one student nurse was included in the celebrations. Nonetheless, student nurse Yehudit Armas, 24, wasn't intimidated. She's used to being a trailblazer. "It's a privilege for me not only to represent the Henrietta Szold – Hadassah School of Nursing but also to meet the president of Israel as a representative of the Achoteynu program for Ethiopian students, the Ethiopian sector in Israel, and the Hebrew University in Jerusalem," said Armas.
The Achoteynu program is a pilot project supported by a generous bequest to Hadassah, the Women's Zionist Organization of America (HWZOA), for nursing scholarships from Patricia Lapan, a nurse and businesswoman from Arizona and California. Ethiopian students who are eager to become hospital nurses are often held back because they don't score high enough on the standardized exams required for college admission. An organization called JobKatif had run a program for practical nurses and approached Hadassah with the idea of creating an academic nursing program that would accept Ethiopians. Hebrew University agreed that the students could bypass the exams if they passed two pre-academic preparatory programs before enrolling in the Henrietta Szold–Hadassah Hebrew University School of Nursing. HWZOA provided the scholarships for tuition, living expenses, and tutoring. Armas is among the first of three pilot cohorts now taking part in the program.
The Armas family arrived in Israel during Operation Solomon in 1991, when 14,000 Ethiopian Jews were airlifted to Israel by the Israel Defense Forces within 36 hours. They settled in the city of Lod, located in the geographic center of Israel but in the socio-economic periphery of the country.
"I took the psychometric test twice, but my scores were too low," said Armas. She was working with bereaved families for the Defense Ministry and had almost given up on her dream of becoming a nurse when she saw a Facebook post about the program. She was one of the 18 students chosen from among 80 applicants.