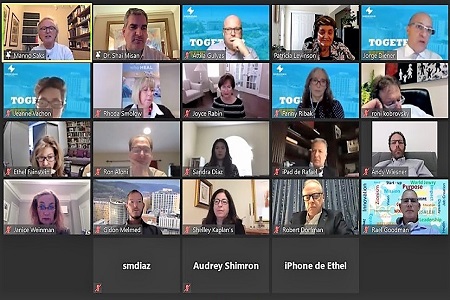 The Hadassah International (HI) Board of Directors and professional staff held a virtual retreat on November 3rd & 4th to discuss the future direction of the organization under the leadership of Robert Dorfman, President of HI, and Jorge Diener, Executive Director of HI.
While celebrating the remarkable HI achievements of the past year despite the Coronavirus pandemic, participants took the opportunity to discuss the directions of the emerging International philanthropic scene, and to develop ideas to respond to the changing world-wide fundraising environment.  HI is now a leading philanthropy in many countries. We cannot rest on our laurels. We need to move forward aggressively to continue to build our brand and to stay ahead.
This discussion ended with an emotional farewell tribute to Melissa Kaplan, who has retired from her post as Executive Director of HI. Over 50 colleagues and friends joined the HI Board retreat to virtually thank and praise Melissa for all she has done over the many years she worked for Hadassah International. It was a very moving tribute that left very few dry eyes.
On the second day of the retreat, participants were privileged to hear the Hadassah Medical Center leadership explain their vision for the future as Hadassah continues to pioneer new paths and lead medicine in Israel into the future. Prof. Zeev Rotstein, Director General of the Hadassah Medical Organization, and Dr. Tamar Elram, Director of the Hadassah Hospital at Mount Scopus were joined by Audrey Shimron, Director of the Hadassah Office in Israel as they highlighted Hadassah's plans for the next several years.
Participants were excited to hear about the implications of some of the remarkable breakthroughs and cutting-edge genetic research being done at Hadassah by Prof. Orly Elpeleg.
Prof. Yoram Weiss, Director of the Hadassah Hospital at Ein Kerem provided an update of Hadassah's treatment and research on COVID-19. The Round Building on the Ein Kerem campus has been the center for the treatment of COVID-19 at Hadassah, leaving the rest of the campus and the Hadassah Hospital at Mount Scopus Covid-free. Hadassah has been at the forefront of conceptualizing the needs for treating the disease and providing groundbreaking care and research. Many of the Hadassah innovations have been adopted by other hospitals in Israel and in communities around the world.
The retreat ended with a discussion of Hadassah International's new branding models presented by Guy Nawy of Castronawy. During the pandemic, HI developed a new branding model that can be used by HI moving forward.
Retreat participants were energized and engaged, eagerly planning to take advantage of the exciting opportunities open to HI as we realize our dreams of bringing Hadassah's medical expertise to countries around the world while raising the funds that will allow our hospitals to continue to serve as a beacon of innovation, health, and hope emanating from Jerusalem as they grow from strength to strength over the next few years.