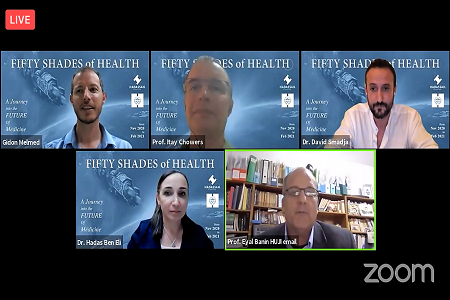 As Prof. Itay Chowers, head of the Hadassah Medical Organization's Division of Ophthalmology, told his international audience during a November 19 webinar, "Hadassah has been using cutting-edge technologies to fight eye disease for over 103 years."
The webinar "Now I See You" is the second of Hadassah International's series, "50 Shades of Health: A Journey Into the Future of Medicine." It featured four of Hadassah's leading ophthalmology experts, who shared some of the latest advancements in eye treatments and predicted revolutionary progress we can expect over the next 20 years.
"The field of eye medicine," Prof. Chowers said, "will advance in a very fundamental way, probably in the next few years, thanks to progress in computer science, cell biology, genetics, statistics, and communication technology. While there are diseases that currently are untreatable, for example, he believes that the situation will at least partially change".
Because the eye is a great organ for testing new therapies, Prof. Chowers related, ophthalmology is at the forefront of medicine. He explained that the eye is small and accessible, response to treatments can be accurately and reliably measured, and the risk of systemic adverse effects is relatively small. He noted, too, that thanks to artificial intelligence (AI), we can identify early signs of eye disease that a doctor is not able to see and also predict how that disease will progress. Already, computers are analyzing huge data sets of eye images and identifying very subtle signs of disease.
Prof. Chowers asked webinar participants to imagine a scenario where an individual is at his family physician's office, and a picture is taken of his retina. Through an algorithm generated by AI tools, the image is analyzed and, immediately, the individual receives a readout that tells him if he has an eye disease or not. "We are starting to see this happening today," Prof. Chowers said.
Prof. Eyal Banin, director of Hadassah's Center for Retinal and Macular Degenerations and the second presenter at the webinar, reported, "There is a good chance that cell-based therapy will be one of the main revolutions in medicine in the coming years." Cell therapy, he explained, involves the transplanting of cells that not only can replace dysfunctional ones but also, unlike medications, have the potential to react to changing environments around them and to act accordingly, just the way the cells of our bodies typically do. "This is a paradigm change in the way we practice medicine."
Prof. Banin has been conducting early clinical trials using human embryonic stem cells to slow the progression of age-related macular degeneration. He and Hadassah's world-renowned stem cell pioneer, Prof. Benjamin Reubinoff, have created retinal pigment epithelium cells, which our bodies are unable to renew once they deteriorate, and these cells have proven to be "almost identical" to those in the eye.
"I am very hopeful that in 10 to 15 years we will have the means to slow down macular degeneration and even treat it," Prof. Banin commented.
Nanotechnology, a tool for manipulating very small molecules, is another high-tech advancement that is taking eye treatments to new frontiers. Dr. David Smadja, head of Hadassah's Refractive Surgery Unit, explained during the webinar that nanodroplets of medicine, by changing the trajectory of light, may replace eyeglasses. "Just by inserting eye drops in the morning," he said, "you won't need your glasses." This advancement, he noted, is under investigation and is only "a couple of steps away."
Eyeglasses that automatically focus as needed are also in the offing. They will be able to zoom in just like our smartphones, Dr. Smadja reported. In addition, he said, enhanced by AI, an ophthalmologist's slit lamp, which is used to examine the interior of the eye, will integrate examination and diagnosis because "the ophthalmologist will already be inside the slit lamp."
Personalized medicine is also getting a boost from advances in AI. During the webinar, Dr. Hadas Ben-Eli, director of Hadassah's Optometry and Biometry Service and an expert in calculating advanced intra-ocular lenses for cataract surgery, noted, "Cataract surgery is one of the greatest success stories in our journey toward personalized medicine." She explained that with the help of AI and a big data approach, we will be able to predict the best lens for each patient, providing clear vision at various distances. "Every implantation will be unique," she said. "It is our vision at Hadassah to create a future where general intra-ocular lenses will no longer exist." There also may be semi-digital or camera-based lenses. Dr. Ben-Eli predicts that we will arrive at that point in "five to 15 years."
If we look over the horizon toward the future of eye medicine, we will see that eye treatments will be able to do what our smartphones do. Eventually, Dr. Smadja predicted, "we will have the same technology in the eye that we have in the smartphone."
Watch the full webinar here: