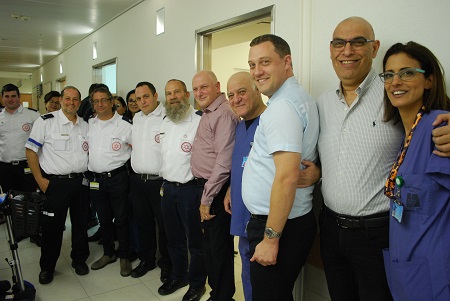 The first-ever Magen David Adom (MDA) Emergency Ambulance Dispatch Center was dedicated at Hadassah Hospital Ein Kerem on October 31.
An MDA ambulance and crew are now stationed around-the-clock at the hospital for a speedy response to adult and pediatric emergencies. The center, located in the Swartz Center for Emergency Medicine, will reduce the arrival time for patients living in the nearby, growing neighborhoods and commuter towns.
"This is another really important step in strengthening our bond with our partner, MDA," said Prof. Yoram Weiss, director of Hadassah Ein Kerem. As a young anesthesiologist, each week Prof. Weiss rode in MDA ambulances as part of the medical team. "We've come a long way together and still have much to do together," he added.
"The coordination with Hadassah is excellent on every level," said MDA Jerusalem Regional Director Shlomo Petrover. "This cooperation is critical. After all, we're both in the business of saving lives every day."