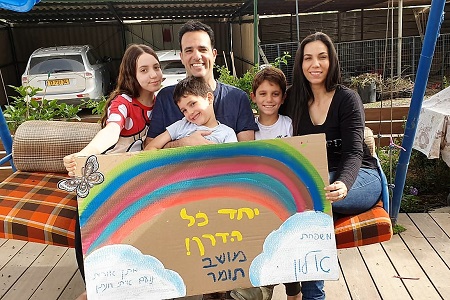 Matan Alon, 41, Hadassah Hospital Ein Kerem's first coronavirus patient, has reunited with his wife and three children and returned to his office in the Majhoul date-packing plant, where he is part owner.
When Matan returned from a skiing trip in Austria last month, he went into quarantine, as mandated by the Israeli Health Ministry. Over the next two days, he began to feel hot and tired. He had diarrhea and suffered muscular pain.
Matan called his local ambulance service, said goodbye to his wife and three children and left Tomer, his moshav in the Jordan Valley, bound for Hadassah Hospital Ein Kerem. While in the ambulance, Matan was tested for the coronavirus by Magen David Adom medics.
The test showed Matan was positive for the virus, and Hadassah's staff took him straight to the COVID-19 Outbreak Unit, where his treatment began.
During the course of the week he spent in the hospital, Matan was a little nervous, but given what everyone was saying about people his age typically recovering well, he felt more confident.
Hadassah's medical teams minimized their direct contact with Matan and the other patients. They entered the unit only to perform essential procedures, such as x-rays of the patients' lungs.
Matan notes, "They were really great, speaking with us the whole time via an intercom and camera, updating us on test results, and asking how we were feeling. They did everything to make us feel better and confident."
After resting for a few days in a special hotel for coronavirus patients, Matan was happy to return home and see his wife, Orit, and children Noam, 13, Itai, 9, and Yonatan, 4. As for the week he spent at Hadassah, Matan relates, "My kids definitely found it hard, but as they heard I was feeling better and they saw, via video chats, that I looked good, they calmed down. Only the feelings of longing grew with time."