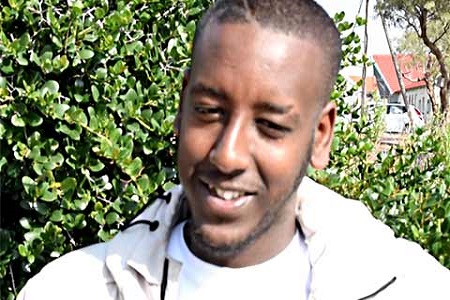 Born in Ethiopia, Almanahu Tarakin grew up in a small Israeli town near Ashdod. He is one of nine children, and he had a rough early adolescence. He said he did some pretty bad things.
One of Almanahu's teachers suggested he transfer to Hadassah Neurim, a Youth Aliyah village near Netanya, owned by Hadassah. "I didn't really know what school was all about," Almanahu admits. "But the pastoral setting and sea views at Hadassah Neurim are amazing."
Almanahu didn't magically change right away. "In 10th grade, when I arrived at Hadassah-Neurim," he says, "I got into a lot of fights with students, and I argued with staff."
Regular sessions with Neurim psychologists and other experts helped, but, in 11th grade, there was a major crisis. "I got involved in a drug-related crime," he relates, looking down at his feet. "At the time, I really didn't understand the seriousness and implications of my actions. I was arrested, and only then did it sink in."
While Almanahu was at home under house arrest, Neurim staff members visited him and called daily. "I can't thank them enough for not giving up on me and letting me return to the village. I knew it was my last chance, that I couldn't play the crybaby."
By the end of 11th grade, Almanahu had passed all of the year's matriculation exams, despite COVID-19 interruptions. "I wanted to give back, so I joined the student leadership program in the village. I finished the course with an excellence rating, and now I am the chair of the student leadership council."
The staff at Hadassah Neurim also recognized Almanahu's soccer talent. The village funded training for him, and now he sees a future for himself playing on one of Israel's professional soccer teams.
"For now, though," he says, "my focus is on finishing high school and then qualifying here as a car mechanic. But that's only the start. I want to be an officer in the army. All I can say is that Hadassah Neurim saved my life, and I would tell any teen that this is the place to be."
As the first Hanukkah candle burns bright, we can think of the lives that Hadassah has turned around by supporting Youth Aliyah, at Hadassah Neurim and Meir Shfeyah. We can think about Almanahu, and how tough love, experienced and compassionate staff, and faith transformed him into the head of his village's student leadership program, an excellent student, and a soccer star.
It takes a village. A Youth Aliyah village!