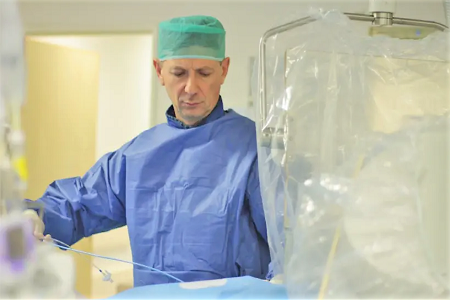 For the first time in Israel, a surgical team at Hadassah Hospital Ein Kerem has performed an innovative procedure to treat an irregular heartbeat in a patient's atrium that enables the surgeon to access areas of the heart that were either difficult or impossible to reach previously. The procedure destroys abnormal tissue with high-frequency electrical energy, rendering the dysfunctional tissue incapable of initiating the electrical signal that causes the irregular heartbeat, known as an arrhythmia.
Prof. David Luria, director of Hadassah's Arrhythmia Unit, explains, "There are cases where we need to reach injured areas that are in the outer layer of the heart that cannot be reached through the blood vessels, so we have been performing the procedure by direct puncture through the chest." The new method enables the surgeon to enter with a puncture through the patient's thorax.
When the traditional procedure involving catheterization of the blood vessels failed, patients remained significantly limited in their day-to-day activity and continued to suffer from heart palpitations and heart failure. They were treated with powerful medications, but, eventually, they needed a pacemaker.
"I trusted Prof. Luria with my eyes closed, so I had no fear," said the first patient. "Happily, the procedure was successful, and I can finally get back to work and the life I was used to. I am proud to say that the world of medicine is constantly moving forward, and I am proof of that."
Read the full article in The Jerusalem Post.
Photo caption: Prof. David Luria, director of the Arrhythmia Unit at Hadassah