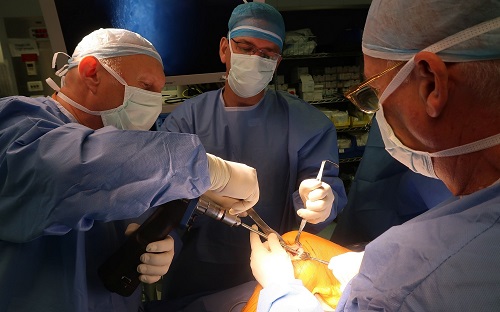 A team of Hadassah surgeons implanted a CartiHeal scaffold into a 30-year- old woman's knee at Hadassah Medical Center. This surgery was a part of a global multi-center clinical trial that is taking place in Israel, the United States and Europe to test a new coral-based implant, Agili-C, developed by the Israeli startup CartiHeal Ltd. It is hoped that the new procedure will bring relief to millions of knee pain sufferers.
The woman, after repeated attempts to fix the worn-down cartilage in her knee had failed to bring relief, received an implant which, it is hoped, will help regenerate her cartilage and bone over time.
CartiHeal believes it has found the solution for people who have cartilage defects with or without mild to moderate knee osteoarthritis, a deterioration of cartilage and the underlying bone. "The idea is to take patients who are still active and to try to treat them before they reach the need for a knee replacement," said Nir Altschuler, the CEO and founder of CartiHeal.
The implant in Israel was performed by Dr. Adi Friedman, director of the Center for Arthroscopic Surgery and Sports Injuries, of the Department of Orthopedic Surgery at Hadassah Medical Center in Jerusalem.
"The need for an implant that leads to the re-growth of damaged cartilage is a real urgency in the orthopedic field; we hope the experiment will succeed, and that the implant will be the breakthrough that we have been waiting for, for many years," Friedman said in a statement. "The transplant went smoothly, and I am hopeful that the patient will soon return to a fully functional and pain-free life. We intend to recruit more patients for the trial. "
Read more about the surgery :
https://www.timesofisrael.com/first-israeli-patient-gets-startups-knee-cartilage-regrowing-implant/
https://www.jpost.com/HEALTH-SCIENCE/Innovative-knee-surgery-implant-invented-in-Israel-used-for-the-first-time-564409