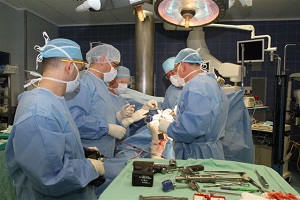 Using Zimmer® iASSIST™–a unique personalized guidance system involving a gyroscope and WiFi technology–surgeons at the Hadassah Medical Center have performed four successful knee replacements.
Prof. Iri Liebergall, Chair of Hadassah's Department of Orthopedic Surgery, was a member of the medical team that developed the new technology for Zimmer, a world leader in technologies and tools for orthopedic surgery.
As in airplanes, the gyroscope enables surgeons to situate the bone at the proper plane and gives them the precise angle for making an incision in the bone. The WiFi component provides communication between the tool on the patient's knee bone and the operating room computer. Together, the gyroscope and the WiFi give surgeons maximum accuracy, which results in less blood loss for the patient and reduces the need for a larger array of equipment.
To date, Prof. Liebergall, Dr. Yoav Mattan, Director of Hadassah's Joint Replacement Unit, and their colleagues Dr. Gurion Rivkin and Dr. Leonid Kandel, have performed successful knee replacements using the new procedure. In 2004, Prof. Liebergall and Dr. Mattan performed the world's first computer-assisted hip replacement, using Zimmer technology.
The International Society for Computer Assisted Orthopedic Surgery has designated Hadassah's Department of Orthopedic Surgery as a Center of Excellence for its outstanding accomplishments and its innovative use of new technologies and surgical tools.
Prof. Liebergall notes that "iASSIST is yet another step forward in the advancement of computer-assisted orthopedic surgery. We are proud that Hadassah continues to play such a pivotal role and that internationally recognized leaders in the field, such as Zimmer, launch their flagship products at Hadassah."