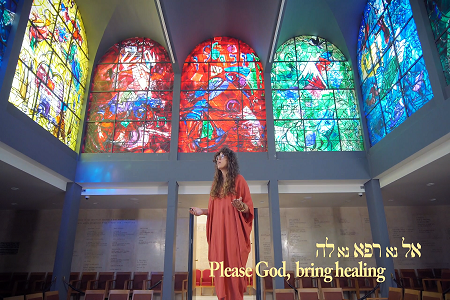 HADASSAH VIDEO TURNS A BIBLICAL PRAYER INTO A POIGNANT MODERN ANTHEM FOR HEALING
Healers in hospitals and institutions around the world are on the front lines, battling the coronavirus, an invisible enemy that snatches the lives of our loved ones and leaves us bereft. This haunting song is their hope. It is their prayer.
"El na refa na la"     "O God, please let us be healed!"   " אל נא רפא נא לה"
The words of this ancient biblical plea, uttered by Moses as his sister Miriam lay ill, resonate deep in the soul of every healer.
In this poignant Hadassah video, they emerge as a primal cry from the heart of Jerusalem as Hadassah Hospital medical staff strive to heal those who have been entrusted to their care. It embodies their dedication and devotion. It acknowledges their personal supplications for support and help as they battle to save lives, reaching a crescendo as the magnificent Chagall Windows bear silent witness.
Composed by singer Yair Levi as his grandmother lay ill, Levi is joined in this video by co-singer Shai Sol and the voices of Hadassah medical staff from around the world, praying in their own tongues: "We must be strong, and we must be healed." These words resonate in Hebrew, English, Russian, Amharic, Spanish, Arabic, Persian, Nepali, and Nigeria's C'lela.
Hadassah's doctors and nurses come from diverse ethnic backgrounds. Together with their patients, they come from different cultures, speak many languages, and have different ways of worshipping God. Hadassah is a place where healing is practiced in an environment of respect and peace. At Hadassah, they heal together, and they pray together for the strength to heal.
Prof. Zeev Rotstein, Director General of the Hadassah Medical Organization speaks with pride about the wonderful Hadassah Staff. "They're going the extra mile, above and beyond. I admire each and every one of them."
"Hadassah is a microcosm of the world that needs healing," noted Rhoda Smolow, President of Hadassah, The Women's Zionist Organization of America.
From the other side of the world in Hong Kong, Robert Dorfman, President of Hadassah International stated "Hadassah is a beacon of light that reaches out from Jerusalem to every corner of the globe."
Hadassah supporters around the world are extremely proud of the extraordinary level of courage, caring, expertise, and innovation that the Hadassah Hospital staff have demonstrated in their battle with the COVID-19. We look forward to offering our unwavering support as the Hadassah Hospitals continue to search for a cure and prepare for the probable second wave of COVID-19.
"We stand with you and pray with you as you heal all those who place their lives in your hands."
Please God, bring healing!
O God, I beseech Thee.
Then we will be strengthened and healed.
We must be strong, and we must be healed.
Please God, bring healing.
In this time of COVID-19, Hadassah believes that strength and healing lies in medical institutions, countries and communities working together to fight our common adversary. Hadassah's Global Response Team is reaching out, advising communities around the world during the pandemic. Together we Live.