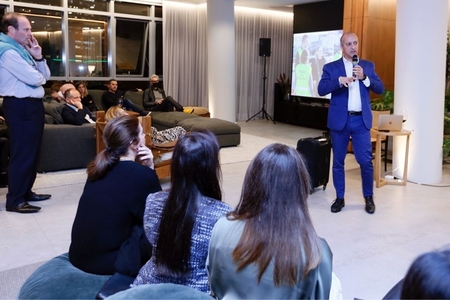 On Wednesday, May 25, Luciana and Gilberto Mautner generously opened the doors of their home to about 80 people for an event organized by Hadassah Brazil to present the important task being carried out by the Hadassah hospital in Jerusalem on the Polish border, receiving Ukrainian refugees. Hadassah is the only Clinic that exists in the place.
It was a wonderful night in which friends and family were received.
The event began with a few words from the hosts who expressed their satisfaction at receiving and presenting the noble task carried out by the Hadassah hospital. The theme of the presentation was: "From the border in the greatest humanitarian crisis of the 21st century", by Jorge Diener, executive director of Hadassah International
The president of Hadassah Brazil, Mr. Marcos Arbaitman, thanked the homeowners and Hadassah's tireless work to help alleviate the pain of the refugees.
Mr. Claudio Bobrow, a member of the International Hadassah Board, introduced Jorge Diener, who clearly and emotionally shared his experience of being present in the border area where Hadassah opened a clinic that has served more than 30,000 refugees. So far, Hadassah has sent 90 doctors from Hadassah Hospital in Jerusalem, equipment, and medicine. Hadassah has overseen the training of doctors at the Lublin Hospital in Poland on Emergency and Trauma issues, as well as training in the event of a nuclear attack.
To conclude, Ethel Fainstein, director of Hadassah International for Latin America, thanked the Mautner family for their generous welcome and gave a brief review of the history of Hadassah and its contribution to healing, teaching, and research.
The first picture below caption: (left to right) Claudio Bobrow – Board Director Hadassah International, Gilberto and Luciana Mautner, Ethel Fainstein – Director for Latin America Hadassah International, Jorge Diener – Executive Director Hadassah International, Dora Brenner – board member Hadassah Brazil, Marcos Arbaitman – President Hadassah Brazil