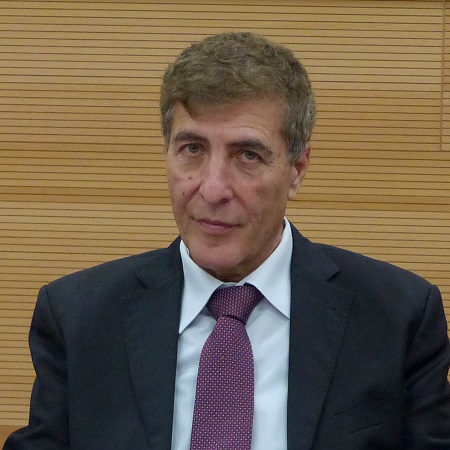 Prof. Chaim Lotan has just completed two decades as director of Hadassah's Heart Institute. We want to share with you some of his reflections upon retiring, as he expressed in the Institute's newsletter last month.
Dear Friends,

For almost 20 years I have taken upon myself the awesome responsibility of leading the Hadassah Heart Institute. On the eve of my retirement, and on the eve of the Jewish New Year, I am honored to send you my final newsletter.

The past two decades have been a time of incredible advances in cardiology. From a profession that was largely conservative, cardiology has become a field of intervention. This change has dramatically reduced the morbidity and mortality of patients with heart disease.

When I began my tenure, mortality from acute myocardial infarction (MI) was over ten percent. Today, our dedicated staff enables us to provide patients with solutions 24/7. We are able to open clogged arteries immediately for heart attack patients in the catheterization lab, and mortality has dropped to approximately two percent. On a parallel platform, we have seen substantial changes in treatment for patients with structural diseases of the heart, and we are now able to replace the aortic valve and repair the mitral and tricuspid valves without surgery. Thanks to this change, we have dramatically enhanced both quality of life and life expectancy. Similarly, significant changes are taking place among patients suffering from heart arrhythmia and heart failure.

Through the years, the Heart Institute medical team has grown from a staff of 10 to over 35 doctors. Our team has become a major resource in the field of cardiology, teaching dozens of fellows from around the world. Those professionals chose to learn from the revolutionary state-of-the-art technologies utilized at Hadassah. Our graduates abroad are now heads of departments and leaders in their fields.

Our move to the new Irma and Paul Milstein Heart Center has made a tremendous difference in the quality of life of our patients. The state-of-the-art catheterization and electrophysiology laboratories, the intensive care unit that enables optimal care of the sickest of patients, and the entire cardiology department–equipped with the most advanced technology–has made the Hadassah Heart Institute one of the leading cardiac centers in Israel and the world.

The commitment of our entire team–nurses, physicians, and technicians–all of whom do their utmost to help our patients at the highest standard of care, has made all of these accomplishments possible. For this, I convey my most sincere gratitude.

I would like to wish you, my dear friends, and your families, a joyous and fruitful New Year. May you be blessed with health, accomplishments, and well-being.

The new Chief of Cardiology, Professor Ofer Amir, will be taking over the leadership of the Heart Institute. He is a gifted clinician, a leading researcher, and a dedicated administrator. I am certain that, together, we will reach new heights.