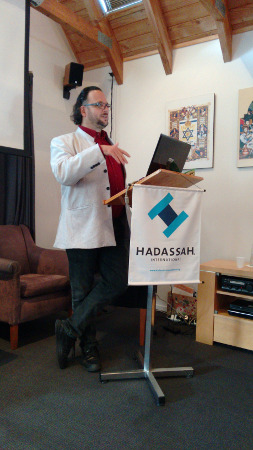 On Sunday 22nd November 2015, Hadassah International New Zealand Auckland branch held a very successful talk by Professor Ghil'ad Zuckermann:
Prof. Ghil'ad Zuckermann (44, www.zuckermann.org/) is an Israeli-born internationally acclaimed linguist and the founder of revivalistics, a new trans-disciplinary field of enquiry surrounding language reclamation, revitalization and reinvigoration.
He was awarded his M.A. (summa cum laude) from Tel Aviv University, D.Phil. from Oxford, and titular Ph.D. from the University of Cambridge.  Presently he is full Professor of Linguistics and Chair of Endangered Languages at the University of Adelaide, Australia, but has delivered keynotes in 100 countries around the world. He describes himself as "not your typical linguist, but a community, field linguist and a language revivalist".
Ghil'ad speaks fluently 11 languages and reads about 30. His mother tongue is what he calls Israeli (Revived Hebrew). He began learning his 2nd language, Biblical Hebrew, at 8; then Israeli vernacular Arabic and English at 10. Modern Standard Arabic, Italian, German, Greek, Yiddish, Aramaic and many other tongues followed. He insists that the more languages you know, the more you use your hands. His recipe for learning a new language is simple: "It's a matter of motivation, musicality, mathematicity, friendliness, memory … and a lack of shame." Speaking another language is very advantageous for brain development.
He explored the dormant languages (in his words "sleeping beauties") around the globe and those in danger of "linguicide." He equated language loss to the loss of identity, self-worth, cultural autonomy, spirituality, intellectual sovereignty, wellbeing and mental health. He hypothesized that language revival results in the empowerment and improvement in the mental health of native speakers.
He gave examples of how neologisms, new words, are invented and evolve in developing languages. For example, the word for "computer" in te reo Māori is "rorohiko"  which translates to brain lightning from the combination of "brain" (roro) and "lightning" (hiko) And in the Barngarla sleeping beauty Aboriginal language that he currently is reclaiming in South Australia  computer translates similarly. In Barngarla gaga means head, bibi means egg. Together Gagabibi becomes brain. Add Waribirga meaning lightning, and the word gagabibiwaribirga.becomes computer.
Ghil'ad also sang with his beautiful tenor voice, answered questions and his outstanding talk left the 55  people who attended enthralled.