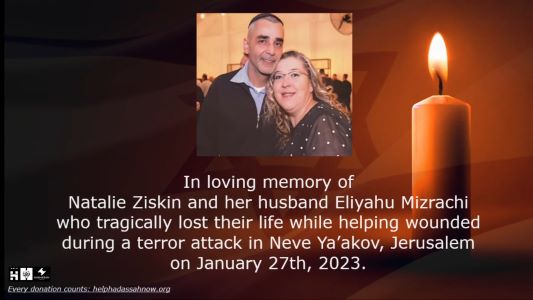 Friday, January 27, 2023, Natalie Ziskin and her husband, Eliyahu Mizrachi were murdered as they tried to help other victims in a terror attack in Neve Ya'akov, Jerusalem.
Natalie loved her work at Hadassah Mount Scopus. She always had a smile and the desire to give and provide to those hospitalized.

In their memory, Hadassah International will dedicate a double patient room in the new Gandel Rehabilitation Center. Donors across the world  are invited to join our efforts to raise $120,000.

Each contributor will be mentioned on the Hadassah International website.

Honor the victims of the tragic terror attack in Neve Ya'akov, Jerusalem

Donate here: https://helphadassahnow.org/
The magnificent new Gandel Rehabilitation Center at Hadassah Mount Scopus will set a new standard for post-operative and rehabilitative care in Israel. With 132 inpatient beds and a large daycare facility for thousands of outpatients a year, it is scheduled to open in early 2024.
This National Center will dramatically improve the quality of life for thousands of patients and their families as they embark on some of the toughest personal challenges they have ever faced. It will be three times the size of Hadassah's current facilities, providing 19,500 square meters of patient-centered healing spaces and amenities designed to encourage movement, independence, and a healthy state of mind.