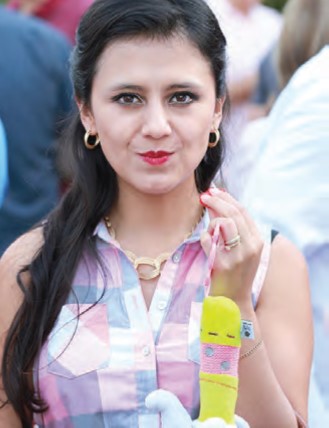 In 1981, Dr. Miguel Sanchez was one of a handful of foreign ophthalmology residents at the Hadassah Medical Center–and only the third resident from Ecuador. Today, Dr. Sanchez's son, nephew, and nephew's wife are part of a thriving Latin American community in Hadassah's ophthalmology residency program.
"It runs in the family," comments Dr. Diego Almeda, age 31, who was the first in the family to join the current cohort of residents at Hadassah. Dr. Almeda's parents are lawyers, but his grandfather founded Vistotal, one of the first eye institutes in the capital of Ecuador, where his Hadassah-trained uncles still practice.
"I grew up playing in the ophthalmology operating room," says Dr. Almeda. "It was my playground. So I guess it's not a surprise that I am specializing in the retina. I still love the operating room and enjoy all types of retinal surgeries."
Dr. Juan Sanchez, Dr. Miguel Sanchez's son and Dr. Almeda's cousin, was next to arrive. "My parents both trained at Hadassah," relates Dr. Sanchez, age 31. "I grew up seeing their devotion to eye care and decided to continue in their footsteps."
Ecuador, a country with over 16 million people, has only 372 ophthalmologists. Public health care does not include eye care, and over 250,000 Ecuadorians are blind–many from preventable and treatable causes, such as cataracts and glaucoma.
Hadassah began training foreign ophthalmology residents in 1961, with the first residents arriving from Latin America in the 1970s. To date, Hadassah has trained ophthalmologists from 40 different countries.
Hadassah's program is three years in duration, just like in the United States, and many foreign residents choose to stay another year to specialize as a fellow. "Today we are training a second generation of ophthalmology residents from Ecuador," notes Professor Yaakov Pe'er, the immediate past director of ophthalmology at Hadassah. "I guess the first generation is satisfied with the training."
Dr. Belen Quizhpe (pictured above), age 30, grew up in a strictly Catholic family in a small city that is a 12-hour drive from the capital. "Even as a medical intern, I had to think twice before sending patients for eye tests because they are an out-of-pocket expense," she explains.
Dr. Quizhpe originally planned to train as a transplant surgeon. After meeting Dr. Almeda during their medical training, however, she decided to follow him to Hadassah for an ophthalmology residency and to specialize in corneal transplants. "We only met in our last month together as interns," she said. "But we fell in love right away. Diego knew he wanted to follow in his family's footsteps and train at Hadassah. Six months after he left Ecuador, I followed him to Israel."
The ophthalmology residents from Ecuador quickly acclimated to a different culture and palate. Dr. Quizhpe recalls, "When we were growing up, chickpeas were only served as a punishment for children who misbehaved. I was surprised that chickpeas can taste so good as hummus!"
Dr. Juan Sanchez plans to study uveitis as a fellow in infectious eye diseases at Hadassah before returning home. "There are not many ophthalmologists in Ecuador and even fewer specialize in infectious diseases," he says.  "At Hadassah, I have access to great facilities and technology and the best people—all experts in the field."
Prof. Pe'er notes, "By training foreign residents, we are raising the quality of eye care on a global level. Many of Hadassah's foreign ophthalmology graduates lead the field in their home countries and train other doctors. Through this program, Hadassah indirectly helps millions of patients throughout the world."