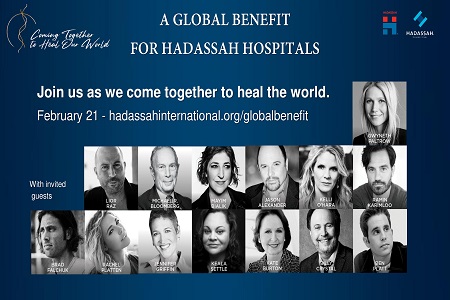 Hadassah International and Hadassah, The Women's Zionist Organization of America, Inc. (HWZOA), are pleased to announce that on February 21 their first global star-studded virtual benefit, "Coming Together to Heal Our World," raised more than $2,000,000 to support the Hadassah Hospitals. Located in Jerusalem, the hospitals provide medical care to more than one million patients each year, while reaching out to share their medical expertise with countries and communities around the world.
Welcomed from Hong Kong by Robert Dorfman, president of Hadassah International, and from New York by Rhoda Smolow, president of HWZOA, over 800 Gala guests watched this inaugural benefit from their homes around the world in Mexico, Brazil, Argentina, the US, Israel, Panama, Paraguay, Switzerland and far beyond. They came together in a collective sense of community and purpose to support and grow the Hadassah hospitals in Israel.
Latin America was particularly well represented at this virtual benefit. Generous donors from the continent not only stepped up to the challenge themselves but also reached out to their families and friends in the knowledge that by coming together to raise money for Hadassah, their donations will save lives in Jerusalem and around the world. Together, supporters from Mexico and Brazil raised over $1,000,000.
Benefit attendees were welcomed by VIP Platinum hosts Olga Sasson Khafif and Jose Sasson from Mexico, who made a significant first-time contribution to Hadassah. Young, elegant, and articulate, Olga is a member of a prominent Brazilian family and a member of the board of Hadassah Mexico. She spoke with pride about why the Hadassah Hospital's outreach to the world is so important. She praised the profound impact and benefit of the Genetics Project, the Hadassah Hospital's outreach to the Mexican Jewish Community, which has created a database of hundreds of exomes, the coding part of DNA, with the goal of linking particular medical conditions to genetic mutations.
Rafael Zaga, president of Hadassah Mexico and a member of the Hadassah International Board of Directors, attended the Gala together with his wife Vivian and their children and grandchildren. He spoke about why he and the whole Jewish community of Mexico are so proud to support Hadassah. In Mexico, supporting Hadassah has become a multigenerational affair.
Also attending with pride were VIP Hosts Lilian and Luis Stuhlberger from Brazil, who have been major donors to Hadassah.
The Gala audience was treated to a celebrity cast, who lent their voices in praise of Hadassah. These internationally acclaimed stars regaled participants with their stories about Hadassah, making the audience laugh and cry as they each told why Hadassah has made such a difference to the world. Others entertained the audience with beautiful renditions of emotional songs.
The event featured appearances by Gwyneth Paltrow, actress and entrepreneur (Goop), Ben Platt (Dear Evan Hansen), Lior Raz (Fauda), Brad Falchuk (Glee), and Mayim Bialik (The Big Bang Theory).
CNN chief political correspondent Dana Bash hosted the event, which included many other celebrities, such as philanthropist and former New York City mayor Michael R. Bloomberg, Jason Alexander (Seinfeld), Kate Burton (Grey's Anatomy), Billy Crystal (700 Sundays), Tovah Feldshuh (Golda's Balcony), Jennifer Griffin (Fox News), philanthropist and former studio chief Sherry Lansing, and more.
The Gala highlighted musical performances by Kelli O'Hara (The King and I), Ramin Karimloo (Les Misérables), Rachel Platten ("Fight Song"), and Keala Settle (The Greatest Showman), as well as the Jerusalem Symphony Orchestra and Sounds of Zamar.
Throughout the benefit, patients and doctors from Hadassah Hospitals shared stories of hope and healing. Guests met a young Arab boy whose life was saved when his entire head and brain were reconstructed after a fall down an elevator shaft, a mother who is living a vital life seven years after undergoing tough, high-dose chemotherapy treatments for lymphoma, as well as a pioneering doctor who has developed a stem cell therapy for multiple sclerosis, giving patients the ability to walk and to function again, free of their wheelchairs.
This past year the world witnessed a pandemic capable of changing life as we know it. The benefit was an opportunity for people in the audience with personal vulnerabilities, hopes, and prayers to show their appreciation for the Hadassah doctors, nurses, and researchers who are sharing their expertise with the world.
At this remarkable benefit, the world came together for an outpouring of love and appreciation for Hadassah. The funds raised will fulfill dreams of the ongoing state-of-the-art care and new developments in the field of medicine and research at Hadassah.
Hadassah supporters came together to Heal Our World.
Watch below the intro of the event: