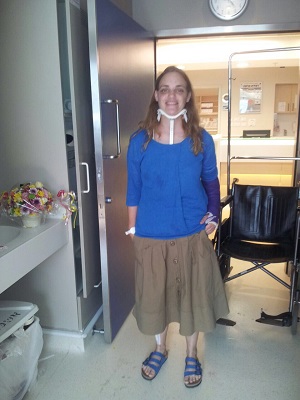 Shira Klein, a 23-year-old graduate student in psychology at the Hebrew University, was sitting on a bench, talking with her boyfriend, Yochai, at a Jerusalem bus stop when a young man, "seeking Jews to kill" rammed his car into them on Holocaust Remembrance Day.
Yochai threw himself in front of Shira. He was killed; she was critically injured and rushed to the Hadassah Medical Center's Judy and Sidney Swartz Center for Emergency Medicine.
Shortly before he launched his car attack, Khaled Koutineh from the village of Anata, had been visiting his parents in Sheik Jarach, the site of the April 13, 1948 attack on the Hadassah Hospital convoy. Shira's grandparents are Holocaust survivors; her mother is a guide for trips to Poland.
When Shira arrived at Hadassah's Trauma Unit, Hadassah's orthopedic specialists first stabilized her back and neck. When they finished their work, Shira was moved to the intensive care unit where she received life support until she was able to breath on her own.
At the beginning of the week, Shira moved to the fifth floor Orthopedics Unit at the Sarah Wetsman Davidson Hospital Tower. With family gathered around her, she chose to watch the chilling police film of the terror attack.
"I don't remember anything," said Shira. "It all happened so fast and I must have lost consciousness immediately. I am so grateful to the Hadassah staff that took such good care of me and saved my life."
"Having a private room in the Tower made a lot of difference in my recovery," she adds. "My family–I have a twin and five other siblings–were around me to support me. Every night someone slept over."
Two weeks after the attack, Shira left her room in the Davidson Tower on her own two feet.