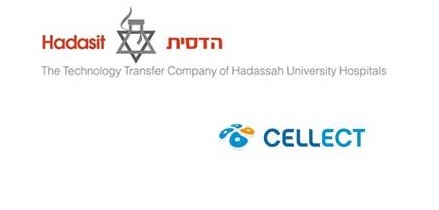 Cellect Biotechnology, an Israeli stem cell innovator, and Hadasit, the Hadassah Medical Organization's technology transfer company, have signed an agreement to test the effectiveness in mice models of Cellect's stem cell selection method for reducing a common complication of bone marrow transplants known as Graft versus Host disease (GvHD).
GvHD is a condition where the donor cells attack the recipient's cells and destroy them, often causing damage to the recipient's organs. Stem cell transplants contain a high ratio of mature cells, which can cause severe rejection symptoms, as well as morbidity and even death. The challenge is to separate stem cells effectively to achieve the critical mass of stem cell quantity and quality necessary for regenerative treatments with minimal rejection risk and at a reasonable cost that will make such treatments accessible for everyone.
Hadassah's Prof. Amnon Peled, one of the world's most renowned investigators of stem cells and natural killer cells, will be conducting a series of trials using Cellect's ApoGraft method. In addition, Prof. Peled will investigate ApoGraft's potential to induce "Graft versus Tumor" reaction, an immune response to a person's tumor cells by immune cells present in a donor's transplanted tissue. This induced reaction could lead to significant improvements in cancer treatment.
According to Cellect, the company has developed a transformative technology that enables any hospital, pharmaceutical company or research center to easily isolate large quantities of stem cells from any cellular mass to be readily available for stem cell-based treatments with negligible risks for rejection disease (GvHD) and at a fraction of the time and costs of today's processes. "We are constantly advancing in providing vital medical and research data on the effectiveness of Cellect's technology as the best solution for stem cell-based treatments," says Shai Yarkoni, Cellect's Co-Founder and Chief Executive Officer. "We are honored to be working with Prof. Peled and Hadassah to further demonstrate what our technology can contribute to the stem cell therapy arena."
Amnon Peled notes: "Cellect's ApoGraft may be one of the key tools for helping to fight a wide range of transplant and cancer related diseases using stem cells. We look forward to collaborating on this project and seeing its results."