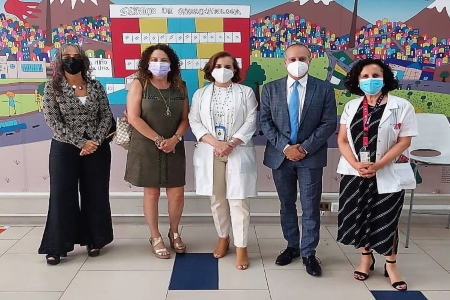 It all started back in March 2020, when COVID-19 started to reach South America. Hadassah International contacted the Jewish Community in Chile and asked them if they would like to participate in meetings with experts from the Hadassah Hospital in Israel who could advise them on how to deal with COVID-19 in their nursing homes for the elderly. The Jewish community was very grateful for the opportunity and participated in several webinars.
Jews have lived in Chili since 1531. The Jewish community, with about 20,000 active members, is the third-largest Jewish community in South America and is well organized and influential in Chile. They even participate in a changing of the guard ceremony at the La Moneda Palace, the seat of the President of Chile, several times a year.
However, Chile is home to the largest Palestinian population in the world outside of Palestine. As a result, antisemitism and the attempt to delegitimize Israel are a constant in Chile.
The Jewish community realized that an association with the Hadassah Medical Organization in Jerusalem, renowned worldwide for treating Arabs and Jews equally, would be a way to reach out to their Palestinian countrymen while enhancing the image of Israel in Chile. Community leaders believe that the activities of Hadassah and the agreements for cooperation that can be made with the Hadassah hospitals will benefit not only the Jewish community but the community at large.
After over one and half years of intense virtual negotiations, Hadassah International has finally initiated activities in Chile. Executive Director of Hadassah International, Jorge Diener, and the Development Director for South America, Fanny Ribak, recently made their first official visit to Chile. The visit was organized by the Jewish Community of Chile, represented by President Gerardo Gorodischer and Executive Director Marcelo Isaccson.
Over the course of four days, meetings were held with various medical institutions in Chile, primarily public hospitals, with the intention of exploring opportunities for collaboration and exchange. This included organizations and people like the Military Hospital, La Clínica Alemana (German Clinic), Hospital Exequiel Gonzales Cortés, Hospital Dr. Calvo Mackenna, the Israeli Medical Center, the Telethon Foundation, and the Vice-Rector of the University. Topics discussed included joint training sessions, the development of research projects, and counseling in child rehabilitation.
The Hadassah International representatives were also warmly welcomed by influential members of the Chilean Jewish community, the Israeli ambassador to Chile, Marina Rosenberg, and a prominent group of community doctors. One of the participants was Dalia Reszepka, whose daughter received a bone marrow transplant at Hadassah hospital that saved her life.
Plans are currently being formulated to create a working group of community leaders and doctors tasked with formalizing a Hadassah Chile Foundation that will give a formal framework to all the Hadassah activity that will occur from now on in the country.
Hadassah International is very excited and motivated by this new opportunity, which will strengthen all our work in the region.
Main picture caption: (l to r) Jorge Diener, Hadassah International Executive Director; Fanny Ribak, HI's Development Director for South America; with Medical Directors of the Children's Hospital Dr. Exequiel Cortez