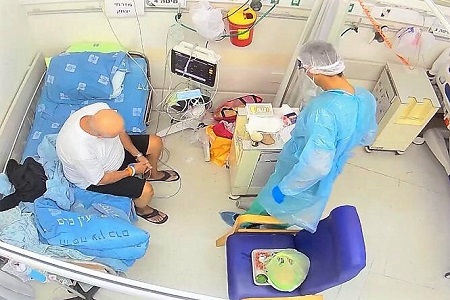 Following the success of its unique visitor's program, in which recovered COVID-19 volunteers have been visiting patients in the coronavirus outbreak units to provide extra care and company, Hadassah Hospital Ein Kerem has begun allowing family members to visit loved ones in these units, too.
Dr. Rely Alon, head of Hadassah's Division of Nursing and Allied Health Professions, emphasizes that entry to the units is being regulated in a strict, coordinated manner, with one visitor permitted at a time. She explains, "The coronavirus has a deceptive nature, and the course of the disease for moderate and severely ill patients is unpredictable. Fear of the unknown and the loneliness of isolation exacerbate the situation for these patients. The nursing and medical staff, who are very busy working around the clock for the benefit of these patients, are not always available to sit and chat." 
Dr. Alon maintains that "the patients need a familiar and calming family member, someone who can stay by the bedside and provide comforting touches and, of course, listen and talk for a while. It is necessary as a part of the healing and recovery process."
This latest initiative was the suggestion of the nurses who recognized the compelling need for COVID-19 patients to have some time with family. A Hadassah social worker coordinates and arranges the visits. All family members who want to visit undergo a screening process where they answer queries about their health, including questions regarding any symptoms of illness, history of background illnesses, and whether they belong to an at-risk demographic for COVID-19, explains Orit Meridan, director of Hadassah's Patient Care Services. On arrival at the hospital, the family member signs a health declaration and then attends a comprehensive training that describes the hospital's protection protocol in the unit.
Hadassah Ein Kerem was the first—and still is the only—hospital in Israel to launch a volunteer visitor project. The program has been operational for several months now and has contributed greatly to the general improvement of the patients' well-being. As Meridan explains, "Participants in the program are recovered COVID-19 patients who now test negative for COVID-19 and have been found to have a high level of coronavirus antibodies." The 40 dedicated volunteers enter the units in full protective gear. They help feed, bathe, and dress the patients, bring them tea, read to them, and listen to their concerns. "Patients are in awe when volunteers come in and tell them that they are there just to be with them, to spend some time sitting next to them," Meridan says.
Thanks to another initiative of the COVID-19 nursing teams, who understood the need for families to hear more frequently about their relatives' well-being, Hadassah Ein Kerem developed a program where "contact nurses" update family members daily on the health status and prognosis of their loved ones. Family members report that they highly value the relationship with these nurses because this regular contact reduces their stress and worry.
Hospital spokeswoman Hadar Alboim notes, "While visiting a family member inside the COVID-19 unit is not free from risk and adds work and responsibility for the hospital staff, the smiles of the patient and family member say it all."