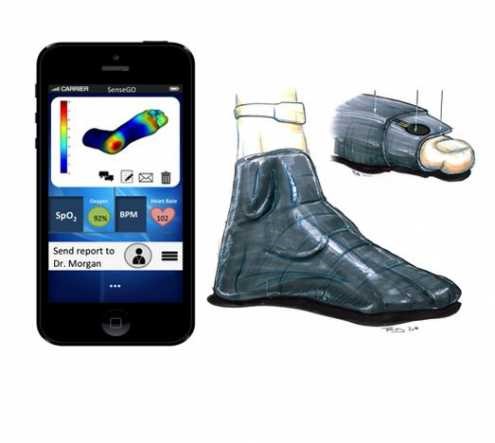 A Hadassah Medical Center physician and Hebrew University graduate students have jointly developed SenseGO™, a pressure-sensing intelligent sock which is paired with a Smartphone application to warn patients of developing wounds and help prevent serious foot ulcers and diabetic amputations.
"SenseGO™, a machine-washable sock which contains dozens of micro-fabricated pressure sensors, collects critical information on key contributors to foot ulcers," explains Team Engineer Danny Bavli of the Hebrew University's Alexander Grass Center for Bioengineering. "This information," he continues, "is then relayed to a Smartphone app which warns if there's too much pressure." Incorrect posture, anatomical irregularities or ill-fitting shoes can be responsible for this harmful situation. The sock registers these changes as electrical signals that are relayed to the smartphone app, which in turn lets the patient and physician know of a problem. One important risk is diabetic neuropathy, a type of nerve damage associated with the development of foot ulcers in patients with diabetes. Affecting over 130 million individuals worldwide, diabetic neuropathy is also the leading cause of amputation.
"SenseGO™ provides both patients and their physicians with the information they need to minimize or even eliminate the occurrence of diabetic ulcers," Mr. Bavli says.
SenseGO™ is a product of BioDesign: Medical Innovation, a multi-disciplinary, team-based collaboration between the Hadassah Medical Organization and Hebrew University. SenseGO™ project team leaders, along with Mr. Bavli, are Sagi Frishman of The Peter Brojde Center for Innovative Engineering and Computer Science and Dr. David Morgenstern, Senior Surgeon in Hadassah's Department of Orthopedic Surgery.
A video about SenseGO™ can be seen at: https://youtu.be/drc7NpiiB74
BioDesign: Medical Innovation brings together outstanding medical fellows and graduate students in bioengineering and business. This multi-disciplinary group is then tutored in the science and practice of bringing a medical innovation to market. The team members receive a list of clinical problems, collected from Israeli and American hospitals, and critically evaluate their commercial potential. Once they identify a clinical need with commercial potential, they find an engineering solution that can be protected by a patent application. The students are mentored by some of Israel's best and brightest academic and industrial experts, who bring their experience in scientific discovery, clinical applications, and business. The program is headed up by Prof. Chaim Lotan, Director of Hadassah's Heart Institute, and Prof. Yaakov Nahmias, Director of the Hebrew University's Alexander Grass Center for Bioengineering.