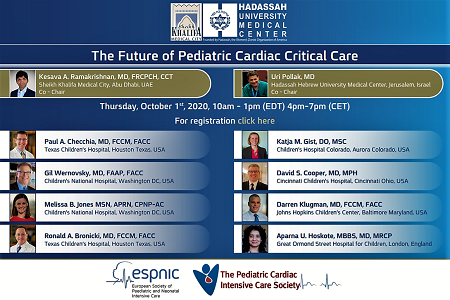 Within two weeks of the signing of a normalization agreement between Israel and the United Arab Emirates (UAE), the Hadassah Medical Organization and Sheikh Khalifa Medical City in Abu Dhabi jointly organized a virtual international conference on pediatric cardiac critical care for their colleagues.
Dr. Uri Pollak, director of Hadassah's Pediatric Cardiac Critical Care Unit, reached out to his counterpart at Sheik Khalifa, Dr. Kesava Ramakrishnan, asking him to co-chair the online meeting. He received an immediate affirmative reply. "Very soon I look forward to meeting and working with Dr. Ramakrishna in Abu Dhabi," Dr. Pollak said.
Over 200 physicians, nurses, nursing assistants, and researchers signed up for the October 1 conference. The attendees hailed from the two host countries as well as Indonesia, Malaysia, the Palestinian Authority, Saudi Arabia, Vietnam, the United Kingdom, and the United States.
Dr. Paul Checchia, professor of pediatrics at Texas Children's Hospital in Houston and one of the presenters, noted that the specialty of pediatric cardiac critical care is a "true community of medical professionals." He explained, "The joy of working with children breaks down barriers among our group."
Dr. Ramakrishnan commented that the gathering was "a reason to celebrate. It brings so much benefit to our center and for the UAE's children."
For Dr. Pollak, the conference marked a bright future. "This is an opening for knowledge-sharing between hospitals and countries," he stated. "I believe in the future. As a pediatric physician, I must."