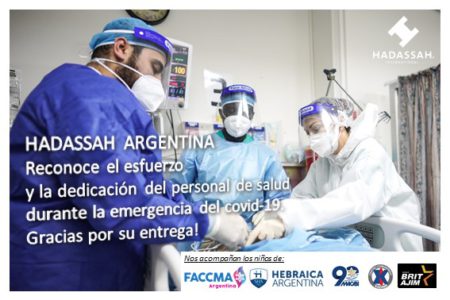 Recognizing the heroic efforts of Argentina's front-line health care workers during the COVID-19 pandemic, Hadassah Argentina launched "Embracing the First Line," creating gift packages for the Intensive Care Unit staff in Buenos Aires hospitals.
This campaign was inspired by a conversation that Hadassah Argentina board members had with Prof. Sigal Sviri, director of Hadassah's COVID-19 Intensive Care Unit (ICU), and COVID-19 ICU nurse Claudia Poggi during the Hadassah Medical Organization mission to Argentina in May. Prof. Sviri and nurse Poggi shared how gratifying it was for Hadassah's ICU staff to receive various gifts from the people of Jerusalem each week. Whether boxes of sweets, children's drawings, or delicious foods, these gestures, the staff said, gave them the strength to keep going, knowing that people recognized their tremendous effort.
The Hadassah Argentina volunteers joined forces with the Federation of Maccabees Community Centers in Argentina (FACCMA) who, in turn, invited children, ages four to 12, to draw pictures and write letters to accompany the gift packages of food. FACCMA is the organization that brings together community centers such as Hebraica, Maccabi, Brith Ajim, and Kadima who joined this project.
Thanks to donations from various food companies, the Hadassah Argentina and FACCMA volunteers were able to deliver 300 gift boxes to five hospitals in Buenos Aires: Hospital Fernández, Hospital de Clínicas, Durand Hospital, Argerich Hospital, and Muñiz Hospital.
The hospitals' ICU directors received the volunteers, most thankful and moved by Hadassah's generosity. One of the directors noted that generosity does not come in a person's genes; it is something that is built every day. That is what Hadassah does, he said— building bridges among nations, uniting people of all faiths and nationalities in its mission to improve the lives of people around the world.