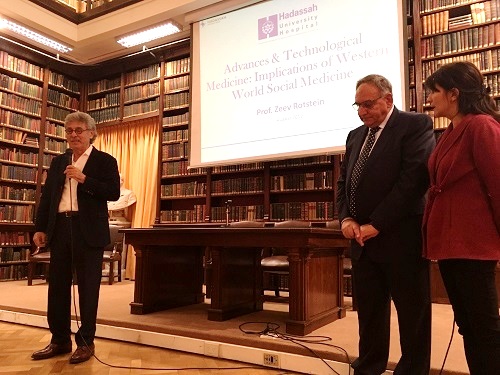 In August 2017, Hadassah Medical Center Director General Prof. Zeev Rotstein visited Argentina and launched a new era for Hadassah Argentina. His visit initiated new medical, governmental and community relationships in Argentina, and inspired the cardre of young Hadassah volunteers who are ready and eager support Hadassah.
In the picture above, Dr. Hugo Sigman  is shown introducing Prof. Rotstein before his exclusive presentation at the National Academy of Medicine, the most prestigious medical institution in Argentina.
Prof. Rotstein was hosted in Argentina by Dr. Hugo Sigman, who is the founder and CEO of Grupo Insud, a business conglomerate with an active presence in the fields of pharmaceuticals, agroforestry, culture, nature and design in over 40 countries. His visit to Argentina was facilitated by Hadassah International Directors Jorge Diener, Senior Director of International Projects, and Ethel Fainstein, Director of Latin America.
Hadassah Argentina volunteers, who have been actively involved in opening the new era of Hadassah in Argentina, welcomed Prof. Zeev Rotstein on his first day in Buenos Aires. This dynamic group of young volunteer leaders is already working on developing Hadassah's network and philanthropic capacity.
Prof. Rotstein was welcomed by the staff during a visit the High Complexity Hospital El Cruce in the Buenos Aires Province. The Hospital is the flagship of public health reforms in Argentina and has agreed to start a collaboration with Hadassah.
A meeting with top business leaders associated with the Israel-Argentina Chamber of Commerce resulted in an agreement for cooperation between Hadassah Medical Organization and the Chamber.
In a meeting with the Minister of Health of Argentina, Dr. Jorge Lemus and Dr. Hugo Sigman, Prof. Rotstein discussed the possibilities for HMO's support in upgrading hospital management in Argentina.
TUCUMAN
Prof. Rotstein's visit to the province of Tucuman was by special invitation from the Governor of the Province, Dr. Juan Manzur, who wanted to thank Hadassah 17 years after Hadassah had helped the Province during a health crisis when child mortality rates and malnutrition had soared and were out of control. At that time, Hadassah sent two doctors who brought their special knowledge  and expertise and were able to reverse the critical situation.
During the visit, Prof.Rotstein was awarded the honor of Illustrious Citizen of Buenos Aires as  Governor Juan Manzur applauded.
Dr. Hugo Sigman, Hadassah's leading supporter in Argentina ; Dr. Juan Manzur, Governor of Tucuman and Jorge Diener, Hadassah during the visit to Tucuman.
Prof. Rotstein and Dr. Juan Manzur, Governor of Tucuman, together with a cabinet member, Hadassah volunteers and Directors at the Historical "Casa de Tucuman" where Argentinean Independence was declared 200 years ago.
Prof Rotstein's visit also included visits to the Faculty of Medicine where he received an award on behalf of Hadassah Medical Organization; the Padilla Hospital; the Jewish Community; and meetings with the Provincial Government Cabinet to discuss new ways of cooperation with Hadassah. He also met with top business leaders, including Calilo Sielecki, owner of the Phoenix group and a leader in the pharma and oil business in Argentina.
See a report of Prof. Rotstein's visit in the Argentine media: http://comunicaciontucuman.gob.ar/2017/08/manzur-declaro-ciudadano-ilustre-al-doctor-zeev-rotstein/
Hadassah Argentina is now poised to become a new shining star in the Hadassah firmament.