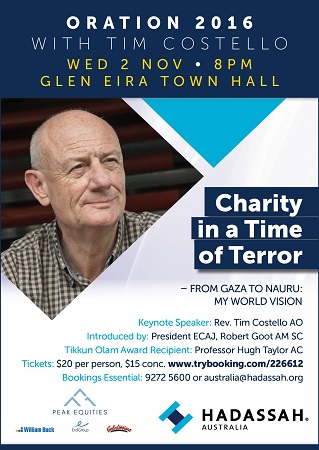 Hadassah Australia is holding is 2016 Oration on Wednesday 2 November at Glen Eira Town Hall.
Rev. Tim Costello, AO, will be giving the keynote address, speaking on: Charity in a Time of Terror – From Gaza to Nauru: My World Vision
At the event, Prof Hugh Taylor AC will be awarded with our Tikkun Olam ("Repair the World") Award for his outstanding commitment to health and society. Prof Taylor is the current President of the International Council of Ophthalmology.
http://www.insightnews.com.au/_blog/NEWS_NOW!/post/hugh-taylor-takes-up-presidency-of-the-international-council-of-ophthalmology/ .
You are welcome to attend, and bring your friends, colleagues and anyone else that you think may be interested.
This will be Rev. Costello's last major address as the CEO of World Vision. He is addressing a very topical and timely matter – this is not an event to be missed!