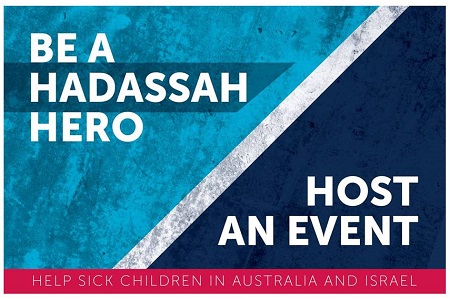 Hadassah Australia has a goal of raising  AU$100,000 for its 4 projects in Israel with a Be a Hadassah Hero Campaign.
Alissa Wolf, Director of Hadassah Australia, stated on Australian TV that "Every one of us can be a Hadassah Hero and make a positive change in the world". (Please see the video of the TV interview below).
Hadassah Australia is asking its supporters to invite family and friends to and event that they will host to raise money for the Hadassah Australia Program of their own choice during the week of 28 November to 4 December 2016 to raise funds for sick children in Israel and Australia.
Hadassah Australia's 4 projects are:
The Jerusalem Crisis Intervention Center is the first port of call for children and adolescents suffering from extreme anxiety and post-traumatic stress disorder.
The Goshen project: Hadassah Australia initiated a groundbreaking community pediatric program in Israel. It works to improve children's health across the country
Medical Clowns Hadassah Hospital introduced medical clowns to Israel. They are empowering patients and staff in a 'medical revolution with a happy face'.
Project Rozana is an Australian-inspired, multi-faith initiative that is building bridges to peace between Israel and her neighbors.
You can follow the campaign at http://www.hadassahhero.org/
Watch the TV Interview about the Be a Hadassah Hero Campaign
https://www.youtube.com/watch?v=1FNJhR9bZzk