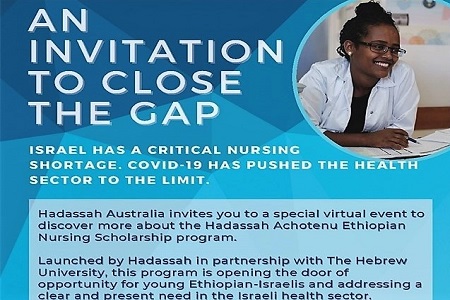 On May 13 Hadassah Australia hosted "Closing the Gap: the Hadassah Achotenu Ethiopian Nursing Scholarship Program," a webinar highlighting the initiative that opens the door of opportunity for Ethiopian-Israelis to study nursing at the Henrietta Szold Hadassah-Hebrew University School of Nursing.
Hadassah Australia's president Ron Finkel explained that his Hadassah International unit adopted the Achotenu program because "it offers a direct and impactful way of addressing the needs of a disadvantaged community in Israel while at one and the same time filling an identified serious gap in Israeli health care." He added, "How good it is that two positive outcomes come from the one program."
The webinar, organized with Hadassah Australia, was designed for donors to the program and people interested in learning about supporting it. "Israel needs more nurses," Rely Alon, director of the Hadassah Medical Organization's Division of Nursing and Allied Health Professions, told participants. Explaining that Israel has only five nurses per 1,000 patients, she noted that "Hadassah is working hard to increase the number of nursing graduates in line with the country's vision to add 1,000 nurses to the profession in the next few years."
Presenter Prof. Guy Harpaz, Hebrew University dean of students, shared his pride in the Ethiopian-Israeli nursing initiative. "Achotenu," he said, "is a win-win-win situation for the students, their families, the Ethiopian community, and the health profession of the State of Israel." Through the Achotenu program, he explained, the admissions staff sees the human being behind the candidate—not a score on a traditional psychometric examination. Achotenu provides specially tailored examinations to identify applicants with potential, despite their lower grades. Once accepted, students begin with a year-long preparatory course, where they are bolstered with academic tools that enable them to meet the curricular challenges. They continue to receive academic, financial, and emotional support throughout the five-year program.
"I am not objective," Prof. Harpaz commented, "but I think we can be very proud of our students and their impressive journey from nonprivileged backgrounds to achieving this nursing degree." He noted, too, that Achotenu is the most significant "game-changing" project he has been involved with during his term as dean.
Dr. Sarit Shimony Kanat, director of the School of Nursing, reported that there are now 64 Ethiopian-Israeli nurses in the program and that the first of the five cohorts is scheduled to graduate shortly. The drop-out rate has been very low, she said. In addition, Dr. Shimony Kanat related that the Ethiopian-Israeli students have great empathy and sensitivity to cultural differences, which makes them wonderful nurses. "They interact magnificently with both the patients and the health care staff," she said. "When we enable one of these Achotenu students to become a nurse," Dr. Shimony Kanat commented, "we elevate an entire family."
The next presenter was Judy Lowy, director of La'Ofek, the Israeli Nongovernmental Organization that helped create Achotenu and continues to support it financially along with Hadassah Australia, the Hebrew University, and the Israeli government. Lowy praised the program and the wonderful fit between the Ethiopian young people's desire to enter a helping profession and Israel's critical need for more nurses. "There's always a job for a nurse," she said, ensuring the students' economic security when they graduate.
Despite the challenge of switching to remote learning during the COVID-19 pandemic, Lowy said, with the help of their mentors, who were often on the phone with them several times a day offering encouragement, the Ethiopian-Israeli students succeeded in continuing their studies.
Last year, at the request of Hebrew University, the Achotenu program was extended to occupational therapy students since there is a growing need for graduates in this specialty. Hadassah Australia is financially supporting both cohorts four and five.
A highlight of the webinar was the opportunity to hear from three Achotenu students, Liya Zemene, Sivan Mashasha and Esther Wassi. Liya is a member of the first student cohort, which is graduating this year. Having immigrated to Israel with her family 10 years ago, she began her studies with Achotenu in 2016, after serving as a medic in the Israel Defense Forces. "Without Achotenu," she says, "I would not be where I am today." Particularly helpful, she noted, was the financial support that enabled her to concentrate fully on her studies without the need to earn money.
Sivan is studying to become an occupational therapist. Born in Israel, Sivan lost her mother while she was in high school. Feeling the obligation to take care of her brother and sister, she was not "taking care of her grades." But she finished school, did her army service, and then took the psychometric examination. She found it very difficult, and it became an obstacle to further study—until she heard about Achotenu. She is now completing her preparatory year.
Esther will also study to become an occupational therapist. "I knew I was smart, but I didn't have the grades," she said. Still, one of her advisers encouraged her to apply to Achotenu and she was accepted. "I believe in myself," she related, "and the Achotenu staff are all here for us." Esther is appreciative of this opportunity and, she noted,  "It is important to say it."
Watch the webinar below: