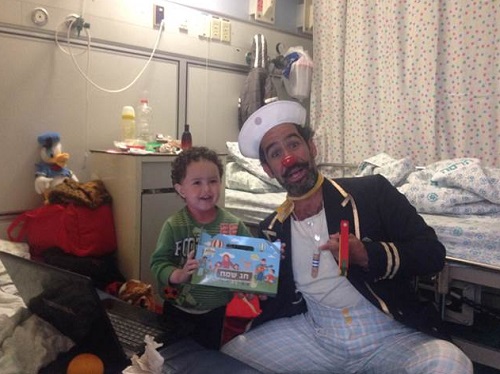 For Hadassah Australia, smiles are the best medicine at Hadassah Hospital this Purim.
They are raising the money to send in the Hadassah's medical clowns to deliver Mishloach Manot at Hadassah this Purim to bring a smile to the face of a chronically-ill child at Hadassah Hospital in Jerusalem.
Israel's most beloved Medical Clown, DuSH is already starting to make the deliveries (See photo above).
For donations as little as $36 the clowns are delivering Mishloach Manot and injecting light and laughter into the lives of these children and their families. Participants in this project also have the opportunity to send a personalized message to the child that will receive their gift.
Donations will also help support the Hadassah Medical Clown Program.
You too can still help to send in the clowns by making a donation today, and give the children at Hadassah Hospital a reason to smile this Purim. Please go to http://hadassahsendintheclowns.org