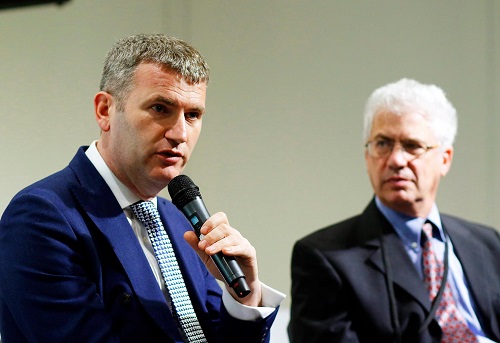 Hadassah Australia launched its new STEM Neurological Disease Campaign in March with the help of Prof. Tamir Ben Hur, the highly regarded Chairman of the Department of Neurology and Director of the Division of Clinical Neurosciences at the Hadassah Medical Center, as well as eminent British media lawyer, Mark Lewis and his partner Mandy Blumenthal. Lewis has been treated at Hadassah for MS since 2016. The goal of the campaign is to raise $500,000.
Dr. Ben Hur, stepped in at the last minute to launch this important campaign when Hadassah's Dr. Dimitrious Karussis was not able to travel to Australia.
Lewis spoke in Melbourne and Sydney to promote and raise funds for the clinical trial in which he participated at Hadassah Hospital in Jerusalem. The trial, known as STEM, has had remarkably positive effects on the condition that has plagued the 53-year-old since his twenties.
"If you can't understand me, it's because of my English accent. Two years ago, if you couldn't understand me, it was because of my MS," Lewis stated.
Professor Ben-Hur told the audiences that he believes that although the trial's results are not yet confirmed, Hadassah has made immense progress in the field of MS research and can continue to make a difference.
"We are hopeful, we are optimistic…after we hear the results we'll be able to decide what's next," he says. "There is light at the end of the tunnel."
The STEM Neurological Disease Campaign, which raised the profile of Hadassah Australia in both cities and established HA as a major player in the R&D arena for Israeli medical research, is being managed by the Hadassah Australia Director of Development, Shelana Silver. In addition to the Boardroom lunches in Melbourne and Sydney, well-attended public events were held in both cities as well as meetings with MS clinicians and researchers. 180 people participated in the public event in Melbourne and 130 in Sydney.
Here are some comments received after the events:
Monique Leventer – Melbourne (has progressive MS): Hi all, Last night was terrific. Comprehensive and presented in layman's terms. 
Larry Rosenzweig – Melbourne (has progressive MS): I just wanted to quickly mention that me and my loved ones, found the presentation by Professor Tamir Ben-Hur, Mark Lewis and his partner, to be extremely interesting, heartfelt and exciting. All three were also very generous with their time afterwards, as we all circled them like a swarm of buzzing bees.
Carol Langford – Sydney (lost her daughter to aggressive MS and set up the Trish Foundation in her honour and fundraises for MS): HUGE congratulations on your professional presentation last night Shelana.  You did a brilliant job presenting this great hope for people living with progressive MS.  All the speakers were outstanding – thoughtful, articulate and very informative. The evening was truly inspirational and SUCH a credit to you Shelana and everyone involved. As you know, my husband and I personally put many thousands of dollars into the Trish MS Research Foundation, however we want to support your amazing work, so Roy and I are making a small donation.
Scientific collaborations:
Meetings were held with key MS clinicians and researchers associated with MS Research Australia (MSRA). Of particular interest were the meetings with MS clinicians in Sydney and a meeting with MSRA CEO Matthew Miles and the MSRA Research Leadership team. Dr. Miles stated:
"I greatly enjoyed working with the Hadassah team in Australia and meeting with Tamir, Shelana, Mark and Mandy.  I am genuinely encouraged by this work in Israel.  I know that our Founding Chairman, Simon McKeon, feels the same way.  I also plan to chat with Simon about how we might go about further collaborations with Hadassah in the future on MCT for MS."
Following the meetings MSRA filmed an interview with Professor Ben-Hur explaining Mesenchymal Stem Cells and the work being done at Hadassah. The interview can be seen at https://youtu.be/Z0ZBOKGvnFQ. MSRA also posted a background article https://msra.org.au/news/mesenchymal-stem-cell-therapy-spotlight/ on the research being done by Professor Karussis.
Media coverage of the Hadassah Australia Campaign Launch
An article appeared in the Melbourne Australian Jewish News on March 9 https://www.stemneurologicaldisease.org/media-coverage/
and one in the Sydney Australian Jewish News on March 16
In addition an article appeared in Plus61J:
http://plus61j.net.au/panel-picks/hadassahs-stem-cell-hope-ms-breakthrough/?theme=Hadassah-health-Jerusalem-Mark_Lewis-MS-stem_cell
More on the Hadassah Australia STEM Neurological Disease Campaign can be seen at
www.stemneurologicaldisease.org
https://www.facebook.com/stemneurologicaldisease/
https://twitter.com/SNDcampaign
https://www.instagram.com/stemneurologicaldisease/