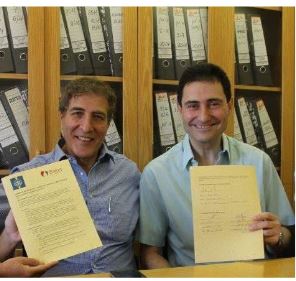 A Memorandum of Understanding (MOU) to cooperate on scientific research in the fields of cardiovascular and diabetes medicine was signed on August 31st between the Hadassah Medical Center and the Baker Heart and Diabetes Research Institute in Melbourne, Australia.
The connection between Hadassah and Baker, an independent research institute that focuses on the diagnosis, prevention, and treatment of cardiovascular disease and diabetes, was forged about 18 months ago when Prof. Chaim Lotan, head of Hadassah's Heart Institute, visited Baker while in Australia, working on a joint project with the University of Melbourne. Prof. Ronen Beeri, head of Hadassah's Cardiovascular Research Center, and his colleagues organized an annual seminar for a group of Baker researchers visiting Israel, which included researchers from medical institutions throughout Israel.  As a result, multiple research collaborations have been formed.
Hadassah is currently working on a collaborative research project investigating the pathophysiology of takotsubo cardiomyopathy. Known also as "broken heart syndrome," or stress cardiomyopathy, the event mimics a heart attack, but there is no angiographic evidence of obstructive coronary artery disease or acute plaque rupture. The term, takotsubo is taken from the Japanese name for an octopus trap, because during the acute phase of the syndrome, the heart's left ventricle bulges and takes on a balloon shape similar in appearance to this trap used by Japanese fishermen.
One joint diabetes research project underway between researchers from the Baker Institute and Hadassah is a study of the death of insulin-producing beta cells in the pancreas. Understanding this may lead to new ways of treating the disease.
Baker Diabetes Expert Prof. Jonathan Shaw, who is involved in this groundbreaking study, traveled to Jerusalem to sign the Memorandum of Understanding. He brings out: 'We have enjoyed a strong relationship with Hadassah Medical Center for several years and the signing of this Memorandum of Understanding formalizes this relationship."
Another collaborative project is taking place in the endocrinology laboratories of Prof. Benjamin Glaser, head of Hadassah's Department of Endocrinology. The project is focused on the genetics of diabetes. Last year, Prof. Glaser participated with more than 300 scientists from 22 countries in an international study, which revealed that most of the genetic risk for developing type 2 diabetes can be attributed to common, shared differences in the genetic code, each of which contributes a small amount to an individual's risk of disease.
For over the last 15 years, Prof. Glaser has led the Middle East charge on type 2 diabetes and its genetics. "When we started working on this, almost two decades ago," he relates, "we naively thought that we could find the genetic cause of diabetes by studying a thousand individuals using a few hundred genetic markers. We now know that we need to study hundreds of thousands of individuals, using millions of genetic markers, just to begin to understand the genetics of this common and devastating disease."  Read more at http://v2023.hadassahinternational.org/hadassah-participates-worldwide-breakthrough-genetic-links-diabetes/
Pictured above:
Prof. Chaim Lotan, head of Hadassah's Heart Institute, and Diabetes Expert Prof. Jonathan Shaw of the Baker Heart and Diabetes Institute, display the Memorandum of Understanding signed between their respective medical institutions.