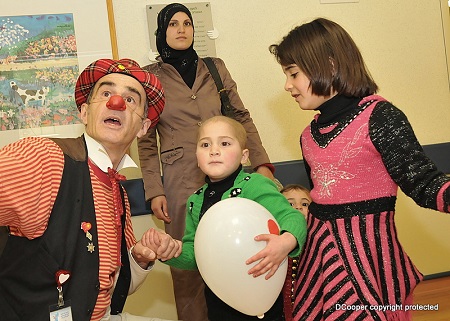 Hadassah Hospital introduced medical clowns to Israel. They are empowering patients and staff in a 'medical revolution with a happy face'.
In the last three years, Hadassah Australia has become one of the pillars of Hadassah's Medical Clowns program.
No hospital in Israel has the resourced to fund medical clowns out of its operating budget. It might seem ironic given that these clowns make demonstrable difference to a hospital's bottom line, but this is unlikely to change in the foreseeable future. Hospitals have to rely on donations. If these dry up, the program will be curtailed and, in the worst possible scenario, will be forced to close.
Donations from Australia and special projects, such as the Hadassah Australia Purim Mishlochah Manot Project, have been a great help in maintaining the stability of the program, ensuring its professional development and the expansion of its existing activities.
In the past year Hadassah Australia's contribution has enabled the Medical Clown Project to provide the following new services:
an additional clown twice a week – a total of six hours a week (Bruria Mimran)
a clown for the Diabetes Clinic on Mount Scopus (Nechtza – Nechama Perl)
three hours per week for a clown in the Bone Marrow Unit (Shpachtel-Sponga – Paula)
expansion of the activities in Emergency Department and Adult Intensive Care Units (Dush)
To see more about Hadassah Australia's support of Hadassah's Medical Clowns, please go to https://www.hadassahaustralia.org/hadassah-medical-clowns/