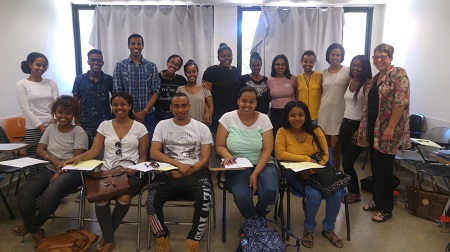 Photo caption: Achotenu – first class with Dean of School of Nursing, Dr. Miri Rom
Barely 11 percent of Ethiopian Jewish students attend university in Israel, as compared to 42 percent of their counterparts in the general population. This worrying statistic prompted the signing of a groundbreaking Memorandum of Understanding between Hadassah Australia (HA) and the United Israel Appeal (UIA)) to sponsor up to 20 five-year scholarships for Ethiopian students to study nursing at the Hadassah-Hebrew University Henrietta Szold School of Nursing through the Achotenu program, jointly sponsored by Hadassah, the Women's Zionist Organization of America, and Jobkatif.
With a mission to help disadvantaged people in Israel gain employment, Jobkatif approached Hadassah and the Szold School of Nursing several years ago with the idea of creating a program that would mentor these young men and women and shore up their academic skills with a college preparatory course. The idea became the Achotenu program, through the generosity of a bequest earmarked for nursing scholarships from Patricia Lapan, a nurse, and businesswoman from Arizona and California.
HA and UIA explain that their involvement in this initiative continues Australia's long-standing commitment to Ethiopian Jewry, which began with UIA's support of Ethiopian resettlement in Israel during the 1980s and 1990s. When UIA heard about Hadassah's Achotenu scholarship program, its Chief Executive Officer approached HA to partner with UIA in supporting this program.
The Achotenu program tackles head-on one of the key problems facing students from Ethiopia and other marginalized communities in Israel: the cultural bias in the Psychometric Entrance Test (PET), a standardized higher education exam that screens students before they gain acceptance to an undergraduate degree program.
Yehudit Armas, for example, failed the PET twice and was convinced that her dream of becoming a hospital nurse was over. Yair Miller, UIA CEO, says it was a chance Facebook post that led Yehudit to Achotenu and changed not only Yehudit's life but also the life of her family. "Yehudit was born in Israel, but her parents immigrated from Ethiopia in 1991 as members of Operation Solomon," Miller relates. "Like many in the Ethiopian community, there was no one in their family who had attended, let alone graduated from, university."
HA President Ron Finkel notes, "For many young Ethiopian Israelis, a place in Israel's internationally recognized health-care system is a matter of pride. It also provides them with economic security." Finkel also emphasizes, "We shouldn't forget that with Israel facing a chronic shortage of nurses, the Hadassah Ethiopian nursing scholarship offers real benefits to society."
When Yehudit was chosen to meet Israel's President Reuven Rivlin this past May as a representative of Israel's student nurses, during ceremonies marking International Nurses Day, she realized how far she had come in her life's journey. "My parents couldn't be prouder of what I've achieved," an emotional Yehudit told President Rivlin. "It wasn't only an honor for me, but for them as well."
Read more about the Achotenu program and the first class of scholarship winners.
First Link: http://hadassahinternational.org/ethiopian-immigrants-receive-boost-become-nurses-israel/
Second Link: http://hadassahinternational.org/18-ethiopian-lapan-nursing-scholarship-winners-following-dream/