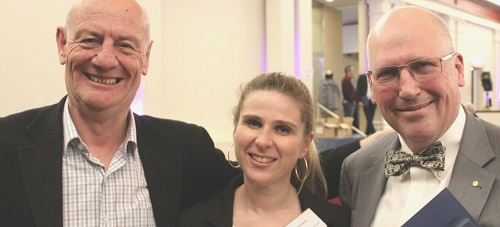 Ron Finkel, President of Hadassah Australia, remarked that
"2016 will be remembered as a year of challenge and growth. In its eight year history, the Hadassah Australia Annual Oration has never before been embroiled in controversy, despite having had some controversial speakers".
This Oration became a cause célèbre after attracting the ire of those who voiced concern over the speaker, Rev Tim Costello AO, and his relationship with one of Australia's leading aid and development agencies, World Vision. Those behind the campaign also questioned whether Hadassah Australia should be associated with World Vision. The reason is the revelation that one of its managers in Gaza had allegedly misappropriated funds and diverted them to the proscribed terrorist organization, Hamas.
Hadassah Australia took a principled position in relation to the Oration and the speaker. The invitation to Rev Costello had been extended some six months before news of the Gaza situation was revealed.
While Hadassah Australia acknowledged the events in Gaza, it stood by Rev Costello as a man of integrity and faith, who has publicly acknowledged Israel's right to exist, and who has partnered with Hadassah Australia through its Project Rozana initiative.
The evening, attended by over 250 people, was also an opportunity to celebrate a leading Australian working in the health and welfare sector with the Hadassah Australia Tikkun Olam Award. The feedback from the attendees of the Oration was universally positive
Rev. Tim Costello's Oration topic was 'Charity in a Time of Terror – from Gaza to Nauru: My World Vision'.
Tim Costello, CEO of World Vision Australia, is one of Australia's most recognized voices on social justice, leadership and ethics, having engaged in public debates on gambling, urban poverty, homelessness, reconciliation and substance abuse. He serves as Chair of the Community Council of Australia, the Australian Churches Gambling Taskforce and the National Australia Bank's Social Responsibility Advisory Council. He studied law and education at Monash University, followed by theology at the International Baptist Seminary in Switzerland.  He also holds an Honorary Doctorate from the Australian Catholic University.
In 2004, Tim was named Victorian of the Year; in June 2005 he was made an Officer of the Order of Australia (AO); and in 2006 was named Victoria's Australian of the Year.
A video and the text of the actual Oration can be found at https://www.hadassahaustralia.org/orations/#content.
The 2016 Tikkun Olam Award was presented to Professor Hugh Taylor AC
Prof. Hugh Taylor is the current President of the International Council of Ophthalmology. He is recognized worldwide for his leadership in trachoma, advocacy for improved Indigenous eye health and other initiatives to eliminate avoidable vision loss.
Information about the Tikkun Olam Award is accessible here https://www.hadassahaustralia.org/orations/#media
To see some of the controversy in the Australian media, please go to https://www.hadassahaustralia.org/orations/#media
Photo above L to R: Rev Tim Costello; Alissa Woolf, Executive Director Hadassah Australia; Prof. Hugh Taylor