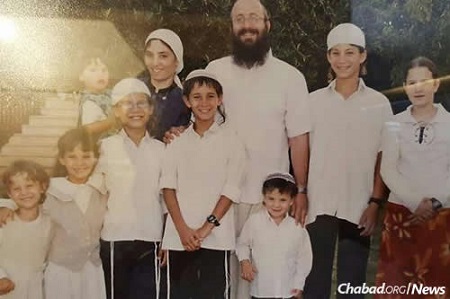 It was a very difficult weekend for the Mark's family. For them, Hadassah Ein Kerem became their home during Shabbat, as they dealt with the terrible consequences of a terrorist attack on their family.
The 10 young children lost their father, Rabbi Michael Marks, last Friday when the family car was shot at several times in the horrible attack. Their mother, Chava, who was critically injured, was brought directly to the Hadassah Ein Kerem Trauma Unit where her life was saved by Professor Avi Rivkind, Head of the Trauma Unit. One of the daughters was also injured and went through a series of operations to save her life too.
The other nine siblings stayed during the whole of Shabbat at Hadassah next to their sister, praying for her life and that of their mother. On Saturday, Professor Rivkind announced that both mother and daughter were no longer in risk of losing their lives.
On Sunday morning, the children left Hadassah to bury their father while their mother continues what is going to be a long recovery.
In the middle of the tragedy, once again Hadassah became more than a Hospital, but a home for the victims, for the injured, for those who need the extraordinary hands, minds and experience of people like Avi Rivkind, whose life has been devoted to saving lives in the middle of tragedies.