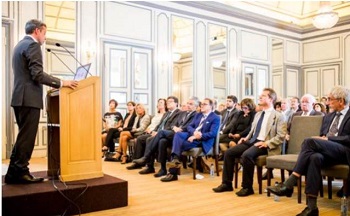 Eighteen months ago, Prof. Maurice Sosnowski, President of Hadassah Belgium and a delegation of doctors from the Bordet Institute met with their counterparts at the Hadassah Medical Center in Jerusalem. Finally, after months of anticipation, the agreement between the two institutions was signed.
The recently launched joint research projects enable Hadassah Belgium to receive a government grant in cooperation with the Belgian Ministry of Foreign Affairs.
To celebrate this event, on June 27th, Hadassah Belgium organized a panel discussion followed by a cocktail party at the Cercle de Lorraine in Brussels.
Dr. J.B- Burrion, Deputy Medical Director of the Institute Bordet, Mr.Didier Reynders, Deputy Prime Minister and Foreign Minister and the Belgian recipients of two winning projects, Dr. Christos Sotiriou and Dr. Marc Abramowicz spoke about the importance of the work and the collaboration.   Their speeches were accompanied by a video in which the Rector of the Université Libre de Bruxelles, Didier Viviers made a passionate plea for the need to support scientific and cultural initiatives when you want to achieve peace in the region. In addition, this film recognized Hadassah's 'A Heart for Peace' project that recently operated on the 500th Palestinian child suffering from heart defects.
Mr Abdeen, Health Minister of the Palestinian Authority congratulated and expressed his heartfelt thanks for Hadassah's support and care of Palestinians. He called for a continuing cooperation between Hadassah and the Palestinian Authority, to raise the level of Palestinian medicine. At the moment, there are some 60 Palestinian doctors doing their residency at Hadassah.
Also present on this evening was Dr. Shimon Edvardson, a pediatric neurologist from Hadassah Medical Center who came especially for this event. Dr. Edvardson presented the trilateral research project on Autism, involving the Palestinian center in Hebron, Hadassah and Queen Fabiola Hospital of Brussels which will be the unit's priority fundraising project.
Let us hope that medical education and health will pave the way to peace!
Click here to see an article in The Best of Bordet.